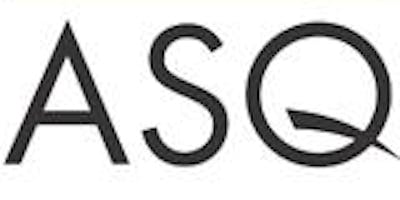 Session 01: "Control Plan"by Babak Baghaei
Presentation synopsis:
In the business world today controlling waste and maintaining a high level of quality is imperative for a company to succeed. The cost of doing business is ever increasing. Therefore, it has become increasingly important to assure that parts are being produced that conform to customer requirements every time. In addition, we must have the ability to detect a non-conforming part or assembly as well as a plan for responding to changing process conditions.  The majority of manufacturing companies are experienced at detecting initial problems and developing corrective actions to correct the problem. But many fall short when it comes to sustaining those corrective actions or process improvements over a long period of time. The purpose of a Control Plan is to monitor processes and assure that any improvements are maintained over the life cycle of the part or product. Control Plans are currently being utilized to ensure product quality in the Automotive, Aerospace, Agricultural Equipment, Heavy Equipment and many other industries throughout the world.  By attending this clinic presentation, you will … 1. Understand what is a Control Plan 2. Why to use a Control Plans 3. How to develop a Control Plan 4. And how to implement a Control Plan.
BIO: Babak Baghaei is the Founder, President, and CEO of 7Q Solutions Corporation.  He leads a dedicated and professional team at 7Q who are committed to improving  the performance and productivity of manufacturing and service organizations by  designing, developing, customizing, and implementing professional/user friendly  Quality Management Solutions that is aligned with the organization's culture and  line of work. He also coaches and leads companies who want to improve their  management system to succeed, improve, and lead in the global market and among  their competitors with customized effective, efficient, and unique solutions. He design's and develops Management Information Systems for organization in different areas of operation and implantation. He designs and develops management systems that are aligned with organization's goals and objectives that will be consistent with their processes. These systems are in compliance with ISO 9000 family Standards, Six Sigma, Lean Six Sigma, TQM, Malcolm Baldrige, and EFQM.  He has over 20 years of Quality Management Standards and systems implementation, over 14 years of experience in consulting for various industries, over 14 years of leading and facilitating projects and improvement teams, and he designs customized Quality Management Information Systems.  He also has earned professional certifications such as ASQ Six Sigma Black Belt, Quality Engineer, Manager of Quality /Organizational Excellence, ISO 9000, AS 9100, and ISO TS lead auditor. 
Session 02: "Cost of Quality"
by Mahboubeh Shabani
Presentation synopsis:
These days, quality and cost are among the most important competitive characteristics of a product. The level of quality is typically assumed to be related to cost. How much a poor quality will affect the cost of a product and consequently the company's revenue, and reputation, or how much it needs to spend money on achieving the desired quality, has created a special place for discussion about quality costing inside each company.
Quality cost analysis does not solve quality problems, and besides, improvement projects must be identified to diagnose and eliminate the root cause of the problems.
BIO: Lean black Belt Six Sigma Certification from Juran Institute and holds two master's degree in quality systems management and Chemical Engineering, Mahboubeh started her quality engineering career at B.F. Goodrich (Kian Tire, Iran) in 1992. After immigrating to the United States in 2012, she joined BCRL at Michigan State University to encounter with a new challenge in the chemical engineering world by working on biofuel researches. Thereafter, she went back to the quality world at Trojan Battery Company in the year of 2017 as a Senior Quality Engineer Supervisor. She has worked on quality cost analysis from the year 2000 until now and she has implemented cost of quality projects in the companies that she worked for. One of her implemented projects was presented by her at the Tire Technology Expo in France
Note: Location, Topic, and Speakers are subject to change based on availability
--------------------------------------
Important Attendee Information:
Bring your printed ticket or electronic ticket.
A government issued photo ID that matches your event registration.
ASQ Member ID (Required if registered as an ASQ Member)
All posted facility signs and directions must be followed for security reasons. Failure to follow them will result in dismissal from the event site.