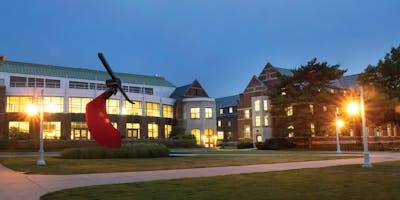 Join us under our tent on Friday, September 27 at 7 p.m. in the Snyder-Phillips courtyard for sweet treats, non-alcoholic beverages, and plenty of fun to welcome you back to RCAH. Friends, family, and partners are welcome to join and are encouraged to attend the parade beforehand (the parade begins at 6pm and travels down Abbot to Grand River and into campus at the Farm Lane entrance.) The official program will begin at 7:30 p.m., and we are excited to honor a beloved RCAH professor, award our second RCAH Outstanding Young Alumni Award and recognize the RCAH alumni scholarship recipients and Justin Morrill College scholarship recipients.  Justin Morrill alumna, Celeste M.  Moy (see full bio below) will share her experiences as one of the first African American cheerleaders at MSU in the late 60s, and how that experience from 'Cheers to Tears to Triumph' helped shape her life and career. 
It will be an inspiring and celebratory night that you won't want to miss, and we hope to see you there!
Email alumni coordinator, Kate McGormley with any questions

CELESTE M. MOY, Esq is Of Counsel in the Intellectual Property Practice Group of Akerman LLP.  Celeste primarily represents songwriters, recording artists, performers, music producers, and their successors-in-interest, in disputes over royalty payments and seeking royalty monetization transactions, copyright assignment terminations and recaptures, as well as negotiating and drafting various types of entertainment contracts. In addition, Moy represents her clients in connection with prosecutions of trademark applications, oppositions and cancellation proceedings.
 Moy is recognized by her colleages and clients as a results-driven commercially focused attorney with more than 30 years of experience with major law firms and publicly traded companies. Moy is a Justin Morrill College alumna who received her B.A from Michigan State University in 1972. She received her Juris Doctorate from the University of Detroit-Mercy School of Law in 1976. She is an active member of the Virginia State Bar Association, and an inactive member of both the Michigan and Texas State Bar Associations.