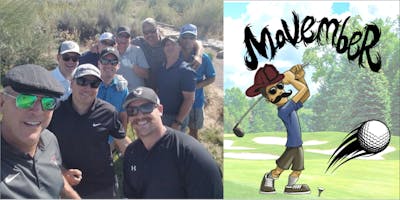 HELP US BRING AWARENESS TO MEN'S HEALTH ISSUES:
Please join us for our third Annual Mustaches and Mulligans Golf Tournament. ALL PROCEEDS will benefit the MOVEMBER Foundation. 

Entry Fee: Includes Golf, Cart, and Lunch provided before the tournament. 

Also includes Closest to the hole, long drive, and lowest score awards.

Golf awards ceremony and raffle at El Dorado Saloon with Barber Johns to Shave off mustaches following the tournament.

This is a rain or shine event.
This year, The El Dorado Hills Professional Fire Fighters IAFF Local 3604 is sponsoring it's 3rd Annual Mustaches and Mulligans Golf Tournament. The tournament is the primary annual fundraiser for supporting the Movember Foundation. This year's tournament will be held at SERRANO GOLF COURSE in El Dorado Hills on Monday, Dec 2, 2019. Following golf, there will be a social event at El Dorado Saloon and Barber Jon's for a shave off. We will have raffle prizes awarded while enjoying drinks and eats.
Annually, The Movember Movement raises awareness of men's health issues including prostate cancer, testicular cancer and suicide. Fundraisers include raising money to support these worthy groups and the growing of mustaches and beards to help grow community attention and support.
About the Movebember Foundation - The Movember Foundations is the only charity tackling men's health on a global scale, year round. We're addressing some of the biggest health issues faced by men: prostate cancer, testicular cancer, and mental health and suicide prevention.
We know what works for men, and how to find and fund the most innovative research to have both a global and local impact. We're independent of government funding, so we can challenge the status quo and invest quicker in what works. In 14 years we've funded more than 1,200 men's health projects around the world.
Learn more about the Movember Foundation here