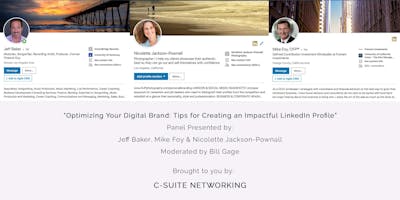 "Optimizing Your Digital Brand:
Tips for Creating an Impactful LinkedIn Profile"
Panel Presented by:
Jeff Baker, Mike Foy & Nicolette Jackson-Pownall
 Moderated by Bill Gage
 
In this competitive age of social media, getting noticed is no easy task. The premiere social media platform for professionals and corporate executives is LinkedIn. Most of us know this site very well, but how many of us actually maximize its potential for promoting career advancement? Not surprisingly, very few!
Attend this exceptional C-Suite Networking event presented by our distinguished panel to learn about key ways to enhance your social media exposure. Key topics related to LinkedIn content, settings and presentation to be discussed include:
The priceless impact of a "wow" LinkedIn profile.
Key SEO terms: What to use and what not to use.
Configuring your LinkedIn settings to maximize your profile's effectiveness and privacy.
Customizing your LinkedIn URL and using advance search features.
Traditional corporate headshots versus showcasing yourself in a compelling, unique, and engaging way.
Your brand is your story – effectively aligning these two key attributes is paramount to "standing out."
 
About the Speakers:
Jeff Baker spent 25 years in banking and corporate finance leadership roles in distribution, transportation and wireless technology industries, primarily in Chicago. In 2011, he began a career in consulting services sales with RGP and later Tatum focusing on the office of the CFO. Upon relocating to Los Angeles in 2016, he has parlayed an expanding knowledge of career management and job search into a coaching practice specializing in career transitions.
Michael Foy, CFP® is a Defined Contribution Investment Specialist with Putnam Mutual Funds. In this role, he is responsible for providing sales and marketing support to financial consultants and pension plans in the 11 western states. Mr. Foy, who currently holds his FINRA Series 7, 65, 63 licenses, joined Putnam in 2013 and had been in the Defined Contribution since 1988. Mr. Foy is a Certified Financial Planner.
Nicolette Jackson-Pownall is the owner of NJP Photography. After 15 years as a successful advertising executive, Nic decided to follow her passion for helping others express their authentic best. She specializes in branding headshot and lifestyle imagery for entrepreneurs and executives who need attractive, personality-driven portraits that tell compelling stories so they can stand out from the crowd.