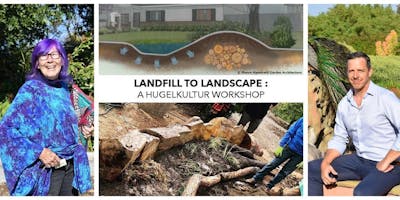 Learn ways to sequester carbon, optimize water and regenerate soil in your landscape!


Two highly regarded southern California experts on hugelkultur, Leigh Adams from the Crescent Farm at the LA County Arboretum, and Shawn Maestretti of Garden Architecture, will teach us how to install a system of hugelkultur spaces in North County San Diego. "Hugelkultur" is translated as "mound culture". It is a method of mounding wood and other organic materials to create a concentrated soil sponge and jump start the soil fungal network. We will be learning the practices of hugelkultur as well as getting our hands dirty doing it! Continental breakfast and lunch are provided. APLD CA sponsor Wendy Proud of Mountain States Wholesale Nursery will be bringing plants to install at the top of the hugel as well. Come join in the fun!


Schedule:
7:30-8:00 am: Breakfast 8:00am-12:00pm: Hands On Learning & Installation12:00pm-1:00pm: Lunch1:00pm-2:00pm: Mountain States Wholesale Nursery Presentation & Plant Installation
What to bring: Hat, sunscreen, water bottle, good working shoes, gloves
What is included: All workshop materials, breakfast, lunch, water
Transportation: Attendees are encouraged to carpool. There are about 25 spaces to park at the sight.
Event location: This event will take place in Escondido, the address will be disclosed to attendees prior to the event. 


About the Presenters:
Shawn is a designer, plantsman, licensed landscape architect, certified arborist, licensed landscape contractor, and educator. His unique background combines extensive horticultural experience, strong composition skills, and environmentally-sensible practices with a wide palette of visually and textually interesting California-friendly plants —breathing new life and a sense of place into every garden.
Leigh is an educator, eco-sensitive designer and horticultural interpreter at the LA County Arboretum and Botanic Gardens.  She has trained many county agencies in regenerative practices as well as conducting hands on workshops with local schools and professional groups.  Her love of collaboration and education infuse all aspects of her work, leaving participants with a profound sense of empowered accomplishments.