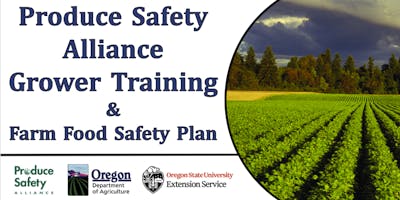 Your ticket purchase includes the following:

Day 1 (8am-4:30pm): Full-day of instruction and Farm Food Safety Plan activities for modules 1-4, and 7.* 

Day 2 (8am-3pm): Instruction and exercise activities for modules 5.1- 5.2, and 6, incorporating hands-on water activities, interactive exercises, and more time for one-on-one interaction with our certified Produce Safety Alliance trainers.**

Certificate of course completion ($35 value)

PSA Grower Training manual ($65 value)

2-3 pesticide credits (pending ODA approval)

Morning snack, coffee, and lunch for both days!

*In order to complete the course, you will have to fully attend both days.
**Please bring a water sample from your farm with you on November 12, 2019 to participate in the water portion of the Farm Food Safety Plan activities!
Who Should Attend
Produce growers, buyers, and others interested in learning about:

Best food safety practices for growing, harvesting and packing produce

Key requirements of the Food Safety Modernization Act (FSMA) Produce Safety Rule

Even if your farm or operation isn't covered by the rule (check here!) this low-cost, up-to-the-minute training is a great opportunity for anyone growing, harvesting or handling covered produce.
As a reminder, the PSA Grower Training Course is currently the only way to satisfy the FSMA Produce Safety Rule requirement outlined in § 112.22(c) that requires 'At least one supervisor or responsible party for your farm must have successfully completed food safety training at least equivalent to that received under standardized curriculum recognized as adequate by the Food and Drug Administration.'
What to Expect at the PSA Grower Training Course
On the first day, the trainers will cover content on:

Module 1: Introduction to Produce Safety

Module 7: How to Develop a Farm Food Safety Plan

Module 2: Worker Health, Hygiene, and Training

Module 3: Soil Amendments

Module 4: Wildlife, Domesticated Animals, and Land Use

Module 6: Postharvest Handling and Sanitation

On the second day, the trainers will cover content on:

Module 5.1: Agricultural Water: Production Water

Module 5.2: Agricultural Water: Postharvest Water

Water Workshop: Building water quality profiles

Supplemental activity: Discussion of FDA Draft Guidance for Industry

Supplemental activity: On- Farm Readiness Review and Sign-up 

In addition to learning about produce safety best practices, key parts of the FSMA Produce Safety Rule requirements are outlined within each module. There will be time for questions and discussionthrough the use of model Farm Food Safety Plans, so participants should come prepared to share their experiences and produce safety questions.
Benefits of Attending the Course
The course will provide a foundation of FSMA Produce Safety Rule requirements and details on how to develop a farm food safety plan. Individuals who participate in this course are expected to gain a basic understanding of:

Microorganisms relevant to produce safety and where they may be found on the farm

How to identify microbial risks, practices that reduce risks, and how to begin implementing produce safety practices on the farm

Parts of a farm food safety plan and how to begin writing one

Requirements in the FSMA Produce Safety Rule and how to meet them

Agricultural water testing methods and Microbial Water Quality Profiles

Training tools you can use at your farm or operation!

After attending the entire course, participants will be eligible to receive a certificate from the Association of Food and Drug Officials (AFDO) that verifies they have completed the training course. Participants must be at least 14 years of age to receive the AFDO certificate. To receive an AFDO certificate, a participant must be present for the entire training (both days- 11/21 AND 11/22) and submit the appropriate paperwork to their trainer at the end of the course.
Questions or concerns?
Contact Brittany Mills at 971-218-1409 or [email protected]
Funding for this training is made possible by the Food and Drug Administration through grant PAR-16-137 and the Food Safety Outreach Program Grant No. 2017-70020-27250 from the USDA National Institute of Food and Agriculture. The views expressed in written materials or publications and by speakers and moderators do not necessarily reflect the official policies of the Department of Health and Human Services; nor does any mention of trade names, commercial practices, or organization imply endorsement by the United States Government.