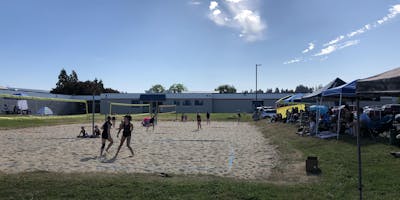 This is the Wodfest Jrs Event 2 for ages 16-18s  The cost per team is $70 and will be paid upon day of tournament or can be paid in advance by check to OSVC Or we take credit card in advance Which you will need to contact Damon Wodke. CASH/check only the day of tournament.   The date of this tournament is June 30th and check in will be 8:00am with captains meeting at 8:15 and play start at 8:30.  This is a double elimination tournament with pool play to start.  Prizes for the champions and points for seaside beach volleyball tournament if this tourney is full.  
1 ticket per team.  Read directions please. Please only get one ticket per team  
First name is your daughter name
last name is her partners full name.  Example below
first name: Julie Smith 
last name: michelle Parker. 
Any my questions please contact Damon Wodke at 541-913-8108 or email [email protected]
checks to:
OSVC
c/o Damon Wodke
6308 F St
Springfield, Or 97478