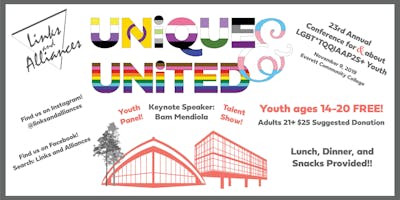 23rd Annual Links & Alliances Conference For and About Lesbian, Gay, Bisexual, Trans* and Questioning Youth
Join us for Plenary Sessions, Workshops, Art, Support, Resources, a Youth/Young Adult panel discussion, and more!
A special workshop track has been designed for parents, educators, and community providers.
Lunch and Dinner Provided!
A limited number of scholarships are available for adults. Please contact Liza Patchen-Short at [email protected] for a scholarship.