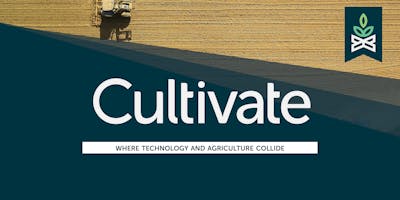 Join us as we explore the convergence of agriculture and technology. Throughout the day, we'll hear from all corners of the agriculture ecosystem and learn about tech innovations happening in the industry. The event has been designed to have equal parts of mainstage content and networking so you have space to learn from the experts and time to connect with future customers and industry leaders.
For more information about the conference, head to www.emergingprairie.com/cultivate
---
Schedule
Registration opens at 8:00 am
Event starts at 9:00 am
Event wraps up at 4:00 pm with a happy hour to follow
*Detailed schedule to be determined
 ---
What can I expect?
Short, mainstage content. Speakers have a maximum of 15 minutes to present to ensure you hear the most relevant information without all the fluff.
Farmer's Panel with 3-4 farmers hosting an open conversation with our audience about their current frustrations on the farm.
Time for connection. We'll have interactive panels, booths, fireside chats, and networking breaks woven into the afternoon.
Refreshments and snacks throughout the day with a happy hour at the close of the conference.
What's included with my ticket?
Your ticket is your all-access pass to the Cultivate Conference, which includes speakers, panels, and complimentary snacks and non-alcoholic beverages.
Who attends this event?
This event will attract attendees from all areas of the agriculture and technology industries, from software developers and farmers to startups and venture capitalists.
Thank you to our supporting partners:
FM Convention and Visitors Bureau
Livewire Entertainment
NDSU College of Business
Heat Transfer Warehouse
Midco
Arthur Ventures
Dakota Carrier Network
Bank of North Dakota
GA Group