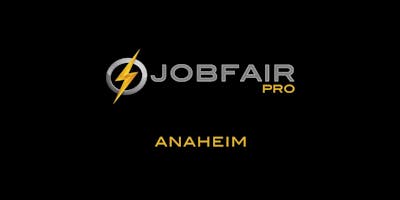 Anaheim Job Fair Pro 
Job Fair Pro has teamed up with Best Hire Career Fairs to bring you the best Job Fairs and Career Fairs in the country.  We have four events in Anaheim in 2019.
Anaheim Job Fairs in 2019Anaheim Job Fair January 17 2019 Anaheim Job Fair April 10 2019 Anaheim Job Fair July 17 2019 Anaheim Job Fair October 24 2019
Location of Our Events Holiday Inn & Suites Anaheim - Fullerton2932 Nutwood AvenueFullerton CA 92831

Why you should attend our Anaheim Job Fairs
Open the doors of opportunity when you meet and interview with the top hiring companies in Anaheim. This career fair will allow you to learn about the businesses that are hiring and what their hiring needs are. Tired of sending your resume over the web to get no responses back? Put a face with a name and make a great first impression. Register today, and you could get hired live at our next career fair in Anaheim.
Industries that hire at our Anaheim Job Fairs
Accommodations, Accounting, Advertising, Aerospace, Agriculture & Agribusiness, Air Transportation, Apparel & Accessories, Auto, Banking, Beauty & Cosmetics, Biotechnology, Chemical, Communications, Computer, Construction, Consulting, Consumer Products, Education, Electronics, Employment, Energy, Entertainment & Recreation, Fashion, Financial Services, Fine Arts, Food & Beverage, Green Technology, Health, Information, Information Technology, Insurance, Journalism & News, Legal Services, Manufacturing, Media & Broadcasting, Medical Devices & Supplies, Motion Pictures & Video, Music, Pharmaceutical, Public Administration, Public Relations, Publishing, Real Estate, Retail, Service, Sports, Technology, Telecommunications, Tourism, Transportation, Travel, Utilities, Video Game, Web Services 
Benefit packages offered by employers
Salaried Positions
Base Salary + Positions 
Bonuses
Commission
Life Insurance
Paid Holidays
Paid Company Training
Management Training
Rapid Career Advancement
Free for all Job Seekers
Be prepared to interview with hiring managers and recruiters from the top hiring companies in Anaheim. Dress to impress and bring plenty of resumes.
Are you an employer looking to attend our events ?
We have received hundreds of job seeker registrations for this event contact us today to reserve a spot at this event for your company. 
Anaheim Job Fair Pro Schedule
Anaheim Job Fair January 17 2019 Anaheim Job Fair April 10 2019 Anaheim Job Fair July 17 2019 Anaheim Job Fair October 24 2019