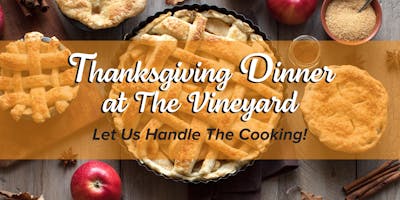 Don't Sacrifice time with your family with needless work and worry. Painted Plate Catering will handle the cooking!
Join us for an all you care to eat, full service, elegant thanksgiving meal. Everything is scratch prepared and every dessert baked in our kitchen.
The Thanksgiving meal will be divided into 4 seating times:
11:00 am – 11:30 am
12:30 pm – 1:00 pm
2:30 pm – 3:00 pm
4:00 pm – 5:00 pm
Choose the preferred seating time and purchase tickets for that time slot.
 Full menu will be listed below - PDF Download available through our website:
PDF Download Link
Please contact us with any questions and we're excited to treat your family and friends to our home for a heartfelt meal.
FULL MENU:

Pre-set on table on arrival
- Crudité of Vegetables, including:
Grape Tomato, English Cucumber, Red and Gold peppers, Cured Olives Broccoli with Green Goddess Dipping Sauce
- Pimento Cheese and House Made Crackers- Charleston Style Pickled Shrimp with Lemon- Baskets of Cranberry bread, Warm Focaccia, House Baked Yeast Rolls, Hot Cheddar Biscuits Whipped Butter
Family Style Traditional Thanksgiving Dinner
(Feel Free to add a different choice on Seconds)
Choose Two
- Free Range Butter Basted Turkey with Pan Gravy
- Apple Smoked Smithfield Ham with Mustard Fruit Pan Gravy
- English Cut Prime Rib (MR/M) with Glace du Vin and side of Grated Horseradish

Choose Two
- Traditional Apple Sage Stuffing
- Cornbread and Sausage Stuffing
- Oyster Bacon and Onion Bread Pudding
- Sour Cream and Butter whipped Yukon Potato
- Roasted Maple Yams with fresh Pineapple and Praline Pecan Topper (Nuts can be removed)
- Mountain Chunky Apple Sauce
- Cranberry orange Relish or Jellied Cranberry
Choose Three

- Roasted Cauliflower with Mornay Sauce of Swiss and Grana Parmesan
- Baby Green Beans with Sun Dried Tomato Butter
- Organic Carrots with Orange Butter
- French Cut Green Bean Casserole with Crispy Onions
- Wild Rice with Confit of Leeks and Wild Mushrooms
Desserts & Coffee
Choose Two (and more when you like!)

- Pumpkin Cognac Pie Vanilla Whipped Cream
- Calibaut Chocolate Pecan Pie
- Carrot Cake with Cream Cheese frosting
- Apple Brown Sugar pound Cake with Caramel Sea Salt Icing