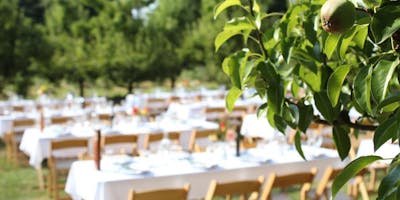 Saturday July 20 at Smith Berry Barn in Hillsboro, Oregon
Chef Katy Millard of Coquine with Andrew Rich Wines
We produce these dinners as a service to our very busy partners, please direct all of your questions to us with a call to 503.852.1031 or by email, [email protected]
Please take note of the following policies before purchasing your seat:

The dinners will be held rain or shine.
Menu substitutions are politely declined.
Plate & Pitchfork dinners are not suitable for infants or children.
You will receive directions to the farm in a confirmation email that will be sent approximately 14 days prior to dinner.
Non-alcoholic drinks are always available.
Dinners are served family style and each table seats 8 guests.
Pets are not permitted at dinner and may not be left in cars.
Smoking and vaping are prohibited at all Plate & Pitchfork events.

Dietary Requests
While we certainly respect dietary choices and restrictions, we're no longer able to offer menu substitutions. Our guest chefs are challenged to create a dynamic menu for a large audience in a very limited kitchen without benefit of a full pantry and simply cannot tailor each course to meet individual dining restrictions.
Cancellations & Ticket Transfers
Refunds are NOT available. You are welcome to transfer your reservation to friends or family or to that nice person you met on Craigslist but you absolutely MUST contact us with an email address for the new ticket holder 24 hours before the event.