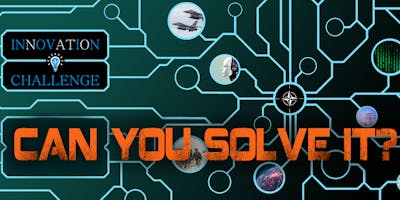 REGISTRATION IS TO REQUEST AN INVITATION TO PARTICIPATE IN THE 2019 NATIONAL DEFENSE VIRTUAL INNOVATION CHALLENGE EVENT. 
The defense and intelligence communities are actively seeking innovations that address operational challenges, mission-critical capabilities and competitive technology gaps. The 2019 National Defense Virtual Innovation Challenge is an invitation-only, nextgen solutions and transformational technologies collaborative-design event sponsored by the ironSAGE Group and its Innovation PartnerNetwork.
CONNECT. COLLABORATE. CREATE.
When: Kick-off Information Session - December 3, 2019 at 2pm ETWhere: Online/Virtual MeetingsDuration: 90-minutes, once weekly (date/time TBD by teams)
The 2019 National Defense Virtual Innovation Challenge will take place over 6 weeks beginning December 3, 2019. The event will bring together business and defense leaders, small businesses and entrepreneurs, science and technology leaders, innovators, investors, and industry experts to identify and accelerate the development of state-of-art solutions for dual-use opportunities within the government and commercial industry. Selected participants will: (1) Be connected/matched in virtual teams based on a shared interest in a specific innovation challenge topic; (2) each team will participate in a weekly facilitated, 90-minute online collaboration focused on designing a solution that meets the requirements of the selected innovation challenge; and (3) at the conclusion of the 6-week collaborative-design effort, each virtual team will present a confidential web-based solution brief to an expert Review & Selection Committee. 
Top-rated teams will receive additional resources, support and guidance aimed at securing solution prototyping and development funds. Potential funding streams include the Small Business Administration's Small Business Innovation Research (SIBR) program, Department of Defense (DoD) Rapid Innovation Fund (RIF), and defense and intelligence agency sponsored Broad Agency Announcement funding vehicles across the DoD.
Due to the highly-interactive nature of the challenge experience, the event is limited to the first 100 qualified participants selected.
CHALLENGE FOCUS AREAS
2019 National Defense Virtual Innovation Challenge topics and use cases span across a range of domains, including digital transformation, critical infrastructure, autonomous systems, smart operations, and combat operations. Focus areas include:
• Advanced Manufacturing• Advanced Materials• Advanced Networks & Wireless• Analytics & Big Data• Artificial Intelligence & Machine Learning• Blockchain & Data Sharing• C4ISR, Sensors & Systems• Critical Infrastructure• Cyber Solutions & Resilience• Drones & Robotics• Energy, Grid, Resilience• IoT, Networks• Logistics & Supply Chain• Medical, Health & Biotech• Mega Cities & Smart Cities• Mobility & Transportation• Simulation, Training & Readiness• Space Technologies• Trusted Electronics & Communications• VR, AR, MR, XR & 360 Virtualization
* Detailed descriptions of specific 2019 Defense Innovation Challenge topics and use cases will be distributed to all selected participants. 
3 SIMPLE STEPS TO PARTICIPATE
Request an event invitation using the Free "Participation Request" registration option that best represents you and/or your organization.
We will contact you by email within 1-3 business days with additional info on 2019 Defense Innovation Challenge topics, use case priorities, other essential information; and to confirm your participation eligibility.
If selected, you will need to complete a Participant Profile (assists with matching participants based on synergy, complementary capabilities and a common topic/innovation challenge focus); and pay a $195 event participation fee.
Participation is limited to the first 100 qualified individuals, so submit your invitation request now. For questions, contact Toni, Innovation Partnerships at [email protected]
WHO IS ELIGIBLE TO PARTICIPATE?
The 2019 Defense Innovation Virtual Challenge is ideally suited for those involved with the design, development and delivery of innovative technologies and nextgen solutions (e.g., active-duty defense and intelligence community leaders, science and technology leaders, emerging technology companies, small business government contractors, entrepreneurs, innovators and inventors, and industry and technical domain subject matter experts).