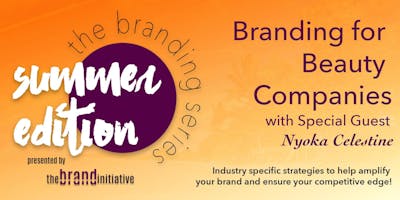 Welcome to THE BRANDING SERIES - Summer Edition, a brand-building workshop series presented by The Brand Initiative.
Join us for industry-specific strategies to help amplify your brand and ensure your competitive edge.
Our resident Branding Experts Valentina Gomez & Victoria Garcia will cover the most important topics around branding for your industry, to help you create a strong brand, take your place in the marketplace and make more money in the process.
In this BRANDING FOR BEAUTY COMPANIES edition, we'll cover:

Why you need a better brand

Your reputation precedes you

Creating a brand culture

Your client experience is your brand
We'll also have a special guest who's doing branding "the right way" in the beauty industry. We'll chat with them to learn about their brand building journey, how they got to where they are now, and the difference a strong brand has made in their business growth.
Our featured "Branding Done Right" Story for this Beauty Companies session is: 
Nyoka Gregory

Nyoka Gregory Beauty is an on-location studio salon located in Houston, Texas that provides premier hair and makeup services with over 15 years of experience. From destination weddings on the tropical beaches of Hawaii and Dominican Republic to the eclectic streets of downtown Houston, Nyoka  believes that each guest should not just receive a service, but should also leave with an experience.  
You can learn more about Nyoka at www.nyokagregorybeauty.com