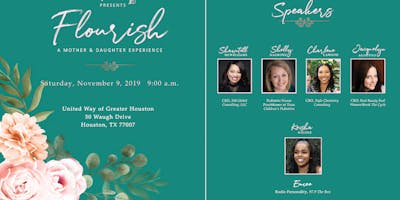 The 4th Annual BEAUTY Mentoring Mother & Daughter Conference will be held on Satruday, November 9, 2019 at The United Way of Greater Houston at 9:00 a.m.
Growing up can be tough, especially on girls, and there is only one way to make the journey easier: through preparation. We have assembled an impressive team of experts and inspiring women to help guide teen girls ages 13 - 18 years and their mothers to navigate the challenges and changes in life. Fun and interactive sessions will cover essential topics such as communication, fashion and confidence, the importance of philanthrophy, health and wellness, and a other critical topics that girls and mothers face in our society today.  Keisha NIcole, radio host and personality at 97.9 THE BOX will be the emcee. 
This event will be a day of connecting, inspiring, and collaborating! We hope you will join us!