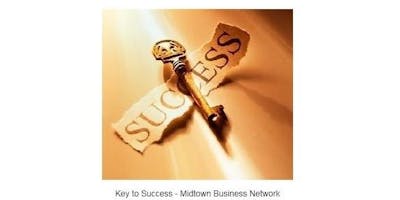 If you are interested in a long term networking business relationship, this group is for you. We are looking forward to seeing you there.
MBN offers many benefits to our members. Here are a few: • We Are Category Exclusive - If you join MBN, then no other representative offering the same products or services may join. No competition means you get all the attention for your category. • Semi-Casual Meetings - Having fun and making friends is how you build relationships and relationships are how you grow your business. We build friendships as well as business relationships. • Social Events - Happy hours, dinners, and other social events are what makes us Houston's most dynamic networking group.
There are a few requirements before you can apply for membership. Please visit our Visitors Center for more information.
BUSINESS NETWORKING WORKS
Word of mouth advertising is the most effective method of advertising for most businesses. Professional business networking is one of the most powerful ways to create word of mouth advertising, especially if your clients are other businesses. Joining professional organizations, lead exchange groups, and community service organizations could be just what you need to take your sales to the next level. Let MBN become part of your word of mouth marketing strategy.
Open categories are as follows:
PLEASE CALL AHEAD - ONLY ONE VISITOR ALLOWED FROM EACH CATEGORY - FIRST CALL FIRST SERVE. For general reservations call Jay Dushkin (713) 961-3600. To be a guest speaker call Kristen Lyons 713-789-7474.
These are available categories:
Architecture Asset Protection and Preservation Attorney - Patent and Intellectual Property Appliance Sales Automotive Detailing and Windshield Repair Automotive Body Shop and PaintBookkeeping Business Formation Startup LLC Sole Proprietorship C Corp S CorpBusiness Expansion and GrowthBusiness PlanningCellular Phones Cleaning Service Clothing/Apparel Sales and Tailoring Commercial Construction Commercial Remodeling Computer Cloud Solutions & Data Backup Computer Equipment & Supplies Copier/Fax Sales and Service Credit Card Merchant ServicesCustom Furniture & Cabinet Fabrication Customer Relationship Management (CRM) Systems Dance Instruction Dentistry Detective Agency Dispute Resolution Education, Learning & IQ Enhancement Electricity - Home Energy Provider Energy Saving Products Engineering Entertainment Agency Equipment and Vehicle Leasing Executive Recruiter Exterior Structures - Patios and Decks Floral Design Foundation Repair Glass Company Glass Tinting Graphic Digital Imaging Graphic Design Hair Stylist Handy Man Health - Dermatology Products Heating and Air Conditioning Service Insurance - Long Term Care Insurance - Supplemental Interior Design & Home Staging Internet Bandwidth ProviderLandscaping Maintenance and Irrigation Limousine Service Locksmith and Safes Medical Billing Medical - Family Doctor Nutritionist, Customized & Clinical Office Relocation ServicesParty Rentals Personal Concierge Service Personnel Placement and Temporary Staffing Personal Trainer Pet Boarding and Grooming Photographer Plumbing Podiatry and Surgery Professional Employment Organizer PEOProject managementProperty Management & LeasingPublic-Relations Agency Public speaking consultantRadio Advertising Real Estate Appraiser Residential Property Management Residential Remodeling & Repairs Roof Construction and Repair Sales and Business Development Training Sales-Lead Generating Spa Services - Skin & Body Care Sports Rehabilitation Therapy Telephone Answering Service and Inbound Call Center Telephone Repair Sales and ServiceTelephone Services ProviderTitle Company Video Production Web DesignWood, Concrete, Masonry Restoration The meeting is held at this location:Morton's The SteakhouseIn the private meeting room5000 Westheimer Rd #190, Houston, TX 77056We meet every Thursday. There are a few holiday and exceptions we do not meet. Lunch for guests are $30.00. Membership costs less for lunch if you should choose to join. If you are interested in listening to the speaker, you are still very welcome to join us, even if your category is taken.  If you choose to attend and there is a member that has your category, please do not anounce your company offers out of respect for the member. To join the group there are by-laws created to allow consistent rules for everyone to follow. We have a Board of Directors that meets regularly and keeps the group in order. This is a great networking group and full of opportunities.