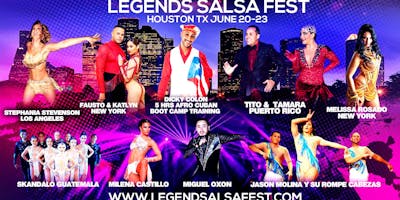 Edgar Guaguanco Productions cordially invites you to the Legends Salsa Fest.June 20-23, 2019Please join us for an unforgettable weekend of performances, workshops, and social dancing. I'm bringing together the best dancers from New York,Puerto Rico and Los Angeles. Special guests: Salsa legends Tito & Tamara, Dicky Colon, Jayson Molina, Melissa Rosado, Stephanie Stevenson, Fausto & Katlyn.
Experience the first-ever boot camp where you can learn and perform with the salsa legends Dicky Colon in one weekend!
Featuring Jayson Molina y su Rompe cabeza. Skndalo Dance Company Guatemala and Miguel Oxon. Milena Castillo Guatemala/Mexico.
World Bachata Champions Fausto & Katlyn from la Fuerza Dance Company New York
23 WORK SHOPS!!!Performers From All Over Texas:
• Liquid Rhythm, New Orleans, LA.•Lee Rios, San Antonio, TX.• Karla Blanco, Houston, TX.• Rebecca Ávila , Latin Ballroom, Houston, TX.• JCamilo & Cindy Cali , Dallas, TX.• Amaya Dance Houston, TX.• Ritmo Star, Houston, TX.• Marie Amore, Houston, TX.• Daniel & Daisy , Houston,TX.• Fabiola & Nathalye Dallas, TX.• Movida Sensual, San Antonio, TX.• Latin Dance Project, Dallas, TX.• SalSarah Finesse, Houston, TX.• Sabor de Houston, Houston, TX.
Let the rhythm of your soul be moved by the unique style of each of the following Salsa DJ's:
• DJ Saoko from Houston• DJ Plaziuz from San Antonio• DJ David Cruz from Houston• DJ Carlitos from Dallas
Location:Exclusive Dance Club. 2726 Fondren Rd, Houston, TX 77063REMEMBER: doors open at 8:00 PM
Closing out Legends Salsa Fest at Sunday Funday
We have a group rate for $69 a night at the Courtyard by Marriott . Only 7 minutes from the event.BOOK YOUR ROOM TODAY
Thank you God Bless Everyoneand see you soon!!!