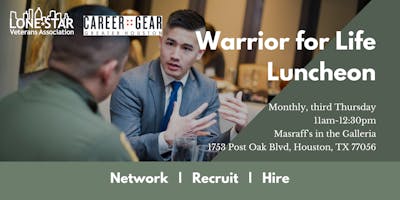 The transition from military to civilian life can be difficult. The biggest obstacle to overcome is finding that great career launch pad. As a military veteran, you already stand out in the crowd as a resource that is sought by companies who value excellence in their personnel. At the Warrior For Life Luncheon, you get to meet those employers, one on one.
Designed to create direct contact between veterans and local employers, Warrior For Life provides a forum for veterans to get hired. Hosted once a month at Masraff's in the Galleria, veterans have a chance to market themselves in a professional, yet personal environment.
Hear from LSVA member Natasha, who landed a job with an employer she met at Warrior for Life:
https://www.youtube.com/watch?v=EvF2wlk76po
For veterans:
Promptly arrive at 11:00 a.m.  This is 30 minutes earlier than employers in order to prepare for the event.
There is plenty of free parking. 
Though not required, it's a great idea to bring an up-to-date resume/CV. 
The dress code is business professional. Suit and tie for men, business suit for women. If you need professional attire for the event, see the following links for men and women.
This is a professional lunch for you to talk with employers and network. Please do not bring guests or family members. Spouses of veterans are welcome! And no, your veteran spouse does not need to attend with you.
If you RSVP, you need to attend.  If you cannot make the luncheon, it is important that you email [email protected] or call (281)744-7972 by 10:00 AM the day prior to the luncheon.  This allows space for those veterans on the wait list. 
 
For employers:
Please arrive promptly at 11:30 a.m.
You do not need to bring swag - there's not enough space, and you'll be busy interacting with veteran candidates. Business cards and small brochures/trifolds work great at this event.
Limit three attendees per company.
Veteran attendance is subsidized in part by employer tickets. Consider adding a donation to cover the full cost of a veteran so we can continue making this event a success.
Sponsorship opportunities are available. Contact [email protected] to learn more.
FAQs
What is the cost of the luncheon?
    $5 for veterans; $35 for employers. If you are an employer who is also a veteran, the cost is still $35 (sorry!).
What kind of food will be served?
    Typically, one of the entree items found here. Please let us know if you have any diet/allergy restrictions.
What are my transport/parking options getting to the event?
    Parking is free.
Do I have to bring a printed ticket to the event?
    No. You will sign in when you arrive at Masraff's.
What's next?
Join the conversation in our private LinkedIn group. We invite employers to post their current openings in this group. These are current and past attendees of our Warrior for Life program and a great pool of talent to share your openings and questions for our veterans. You'll be accepted to the group once your RSVP and payment for the event is confirmed.
Join Our LinkedIn Group Here