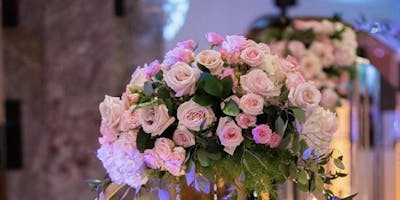 Don't miss our 2019 Business Floral & Design Master Workshop ! https://www.eventbrite.com/o/larger-than-life-event-planning-custom-designs-and-treats-13608537580
Join us for our 3rd year of "The Larger Than Life Experience", All 2019 
Jacksonville 
Miami 
Pensacola 
Clearwater 
Orlando 
New York 
Atlanta 
Bahamas 
Houston 
Columbia
Charlotte
2019 Schedule
This workshop has been  birthed to guide students through "The Art Of Business, Floral & Event/ Wedding Design" the students how to build a successful business in the luxury market. You will also learn the techniques behind my signature designs.
This workshop will give the students  the confidence to create, design, and discover your own personal style. Students  will be given the tools, knowledge, and guidance to create their own events from start to finish 
THIS WORKSHOP MASTERCLASS
will focus on the business structure from starting your business to pricing, marketing, pricing, attracting your specific audience + floral runners , the art of using real & silk floral design + tabletop design and over the top arrangements. .along with Advertising
Social Media Algorithm ( Posting Times To Grow Your Facebook & Instagram Organically 
Establishing Your EIN
Establishing Your D&B 
Floral Arranging 
Business 
Finance 
Leveraging Business Credit To Get Funding 
Staging 
Organic Balloons
Real & Silk Floral Designs 
Real& Silk Floral Runners
Hula Balloons
Real & Silk Floral Hulas
Event Planning
Draping 
Table Setting 
Color Pallettes 
Centerpieces 
Candy Staging Treat Table Setup 
Demo of Specialty Apples, 
Preparing, Decorating, 
Dipping Strawberries, 
Rice Krispies, 
Pretzel Rods, 
Oreos and so much more. 
All supplies are included along with a syllabus and a certificate of completion !
THIS  4 DAY WORKSHOP IS FOR:
• Individuals who want to focus on creating lucrative successful businesses • Individuals with little or no experience but aspire to create beautiful events and floral arrangements. • Experienced designers looking to grow their skill set. • Passionate creatives who want to pursue their dream in Wedding and event designing while letting their work speak for itself .
BONUS:
For the first time ever, students  will be given access to 4 online extra revenue educational series created by Shaquilla .
Plus a 30 contract package! 

Online Video Series - You will get access to exclusive online masterclass videos from Shaquilla . These series of educational tutorials  are  online classes. These videos will arm  you with the know how in adding to your bottom line while learning new skills . 
Enroll Now at https://www.eventbrite.com/o/larger-than-life-event-planning-custom-designs-and-treats-13608537580