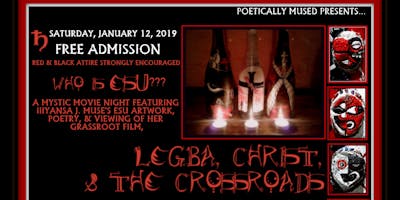 "Legba, Christ, and the Crossroads is a 45 minute self produced film based on the feature article of my mystic arts journal, The iiiSangoma. It is a compliation of my original poetry, mystic teahing articles, and my feature bottle artwork!
This is the cover of the art journal that the film promotes. Order your copy ahead of time, bring it to the screening, and I will sign it for you!  www.poeticallymused.org/iiisangoma Copies will be available for sale along with my original bottle art, and the audiobook version of the journal.
21 days until the Red & Black Affiair! The Saturday following the Caravan to the Ancestors (Saturday, October 27), Join me for some Esu wisdom, my signature bottle art, poetry, and viewing of my film, "Legba , Christ and the Crossroads! See you there!