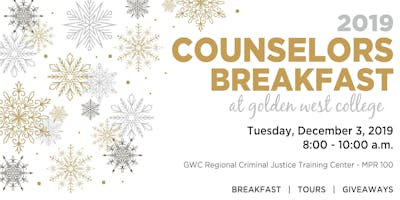 Hello High School Partners!
We are excited to see you at the 2019 High School Counselor Breakfast. There are several new developments at Golden West College that we are eager to share with you. We will discuss the following key topics at this year's breakfast:
FREE college - tuition, books, and fees
Student Ally Center - helping students feel like they belong
New Athletic Teams
Dual Enrollment Programs - helping high schools start college early
Guided Pathways Courses - starting all students with direction
Partnering with you to start all students with an education plan (Team discussions and the New Student Canvas Shell)
Event Agenda:
Check-in (7:45 a.m.)
Breakfast (8:00 a.m.)
Introduction by President Tim McGrath
Announcements and Presentations
Table Discussions 
Tour of the new Math & Science building
The breakfast will be in the Regional Criminal Justice Training Center. For your convenience, there will be designated parking lots: Lots H & I, off of Gothard St. If you park in these areas, you will not need a parking permit. 
Due to limited space, Counselors and Administrators get priority registration. If you are not a Counselor or Administrator, please go through the registration process and select "Other" as your job title. We will let you know if you can attend the event at a later date.
Please RSVP by Friday, November 15, 2019 at 4pm. You will receive a giveaway if you register by November 15th. 
PLEASE REGISTER INDIVIDUALLY.
We look forward to seeing you!