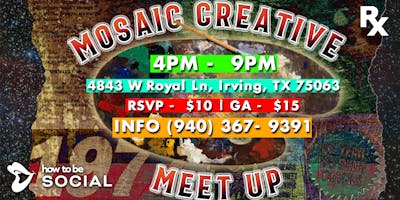 Calling all...
Models  - Photographers - Videographers - MUAs - Stylists
May 24th, 2019 from 4-9pm
Join us at Royal Lane Studio in Irving for our first ever Mosaic Creative Meetup. Any and all creatives are welcome to come and take advantage of the full 2,000 square foot studio with a choice of either white or black cycloramas.
The goal of this meetup is to gather any and all kinds of artists together to create in a non-traditional manner. Whether this includes performing musicians, custom clothings, etc. we just want to provide everyone with a new and interactive way to explore content creation.
Just make sure to RSVP below. Prices will jump to $15 at the door, so don't miss out!
We have three featured artists to kick things off!
Maribeth Mills - Singing for the first hour
Thanh Nguyen - Published model and cohost for this event
Alexandria Nolan - Featured model
Sponsored by
How To Be Social - www.howtobesocial.blog
Digital Medication - www.teamdigimeds.com

For any questions or concerns, be sure to contact your host Sterling Bueno
Email: [email protected]
Phone: 940-367-9391 (call or text)