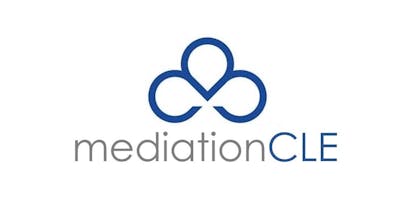 Seating in this course is strictly limited to 20 participants. Register early to confirm a seat in the course. When the course sells out, we will begin a wait-list in the event of cancellations. For additional dates/locations, visit www.mediationCLE.com.
 
ABOUT THE COURSE The Mississippi General/Civil/Divorce Mediation CLE Seminar is a comprehensive CLE-approved mediation training seminar designed to thoroughly prepare you to become a professional mediator. You will master mediation skills that you can use to resolve disputes in a wide variety of conflicts including GENERAL/CIVIL cases and DIVORCE/FAMILY cases. The course meets the training requirements of the Court-Annexed Mediation Committee of the Mississippi Supreme Court and the MCLE office for inclusion on the state court mediator roster (maintained by the Mississippi Bar). It also satisfies the continuing mediator education requirements of the state court mediator roster. It is approved for 14 hours of CLE credit (2 ethics).
 
WHO CAN ATTEND There is no pre-requisite to attend this seminar. EVERYONE interested in mediation is welcome to attend including new and experienced mediators, lawyers, judges, counselors, therapists, HR professionals, educators, undergraduate and graduate students, law students, clergy, health care professionals, business executives, ombuds, realtors, and anyone interested in helping resolve disputes through mediation.
 
AGENDA Day 1: 8:30 am -- 5:00 pm Day 2: 8:30 am -- 5:00 pm Check-in begins at 8:15 am on Day 1. Lunch is on your own from 12:00-1:00 pm.
 
 
LOCATION Courtyard by Marriott Jackson Ridgeland 6280 Ridgewood Court Drive Jackson, MS 39211 (601) 956-9991
 
SEMINAR HIGHLIGHTS & COURSE CONTENT The Mississippi General/Civil/Divorce Mediation CLE Seminar is a comprehensive, engaging, and interactive learning experience designed for anyone interested in becoming a successful professional mediator. Among the many topics we cover, you will learn:
The Stages and Goals of the Mediation Process
The Role of the Mediator
Do's and Don'ts in Mediation
Mediation Styles
Critical Conflict Resolution Skills and Techniques
Strategies for Overcoming Impasse
Mediation Advocacy Skills
Ethics and Professional Standards for Mediators
Tips for Starting a Mediation Practice
This training program covers everything you need to know to get started in mediation. If you would like a detailed agenda of topics covered, email registration[at]mediationCLE.com.
 
A "TOTAL PACKAGE" MEDIATION TRAINING EXPERIENCE Mediation CLE, Inc. takes pride in offering a "total package" training experience. We don't just want to train you to mediate. We want to see you succeed in mediation! In addition to an outstanding in-depth training experience, your registration in one of our multi-day basic mediation training seminars includes the following:
A Comprehensive Training Workbook/Reference Guide
Supplemental Training Materials
Forms, Checklists and Materials for Use in Your Mediation Practice
Certificate of Completion
Resources for Mediators
Next Steps for New Mediators
After the seminar:
Free post-seminar consultations with trainer: The lead trainer at your seminar will be available to you at no charge for post-seminar consultations by telephone or email anytime to answer questions or provide assistance as needed.
Discount registration for advanced training seminars: This course is a comprehensive all-inclusive training program. However, if you feel that you want to take your training experience to the next level, we also offer advanced training. Graduates of the basic training courses receive a discount on advanced training programs sponsored by Mediation CLE, Inc.
 
CLE and OTHER PROFESSIONAL CREDIT This course is approved for 14 hours of CLE credit (including 2 ethics) hours in Mississippi. Do you need CLE credit in another state? Our seminars have been CLE-approved since 1995 in every state in which our courses have been offered. Course participants have also received CLE credit in their home states after attending one of our training programs out-of-state. (Our courses have never been denied CLE approval in any jurisdiction). If you have questions about CLE status in your state, contact us at registration[at]mediationCLE.com.
Are you seeking continuing education credit for another profession? Let us know how we can help you get credit in your profession for attending one of our mediation training courses. We will work with you to apply to the appropriate organization to have our course approved by your professional credentialing agency for your benefit. Contact us at registration[at]mediationCLE.com.
 
YOUR SATISFACTION IS ABSOLUTELY 100% GUARANTEED This seminar has a long history of success! We've been training mediators in Mississippi for over 22 years! We are so confident that you will gain the skills you need to become an exceptionally effective mediator at our seminar that we make this promise: If, after completing a training program, you are not satisfied with the seminar content or presentation by the instructor, simply return your training materials to the seminar leader on the final day of training and your enrollment fee will be refunded! No problem, period! We know of no other mediation training organization that offers this type of money-back guarantee on mediation training.
 
COURSE DESIGN Our training philosophy -- Minimal lecture; informative, engaging interaction! Those five words describe the practical, hands-on approach of our training program. In addition to learning mediation principles, you will have an opportunity to practice your new mediation skills at the seminar in a comfortable, non-threatening learning environment. Mediation simulations, small and large group discussions, media presentations, and meaningful group exercises will enhance your learning experience. And, you'll receive feedback and performance improvement suggestions in a fun and challenging setting.
Many participants who attend our program tell us: "This is unlike any other CLE I've ever attended!" We take that as a compliment! (They also tell us, "This is the best CLE I've ever attended!") Our innovative and creative approach to CLE will have you engaged in the course from the moment the program begins until the very end!
Nearly every mediation training seminar we present sells out. Our training courses are limited to 20 participants (or fewer, depending on location). This small group experience will enable each attendee to receive individual attention. Register early so that you can get a seat in the course that is most convenient for you.
 
FACULTY This seminar will be conducted by Troy Smith, author and designer of this seminar and over a dozen other mediation training seminars. Troy began mediating in 1992 and has been a mediation trainer for over 25 years. Over 7000 attorneys, judges and other professionals have completed his training programs.
Additional faculty may also be present at your program.
 
SEMINAR REGISTRATION TRANSFER and CANCELLATION POLICY Full Refund. Your seminar fee is refundable if you cancel your registration 21 or more days prior to the first day of the seminar, less a $50 administrative fee. All cancellations must be received in writing or via email.
Reschedule Anytime. If you must reschedule your attendance at a seminar -- even at the last minute -- you may transfer your registration without additional cost to another equally priced seminar within 24 months of the date of your original program. All reschedule requests must be in writing and received prior to the start of the seminar. (No-shows will not be eligible to reschedule).
Substitutions. If you are unable to attend a seminar for which you have registered, you may send a substitute in your place. If you need to send a substitute, we ask that you notify us at least 1 day in advance of your seminar, if possible.
Event Cancellation. In the highly unlikely event that Mediation CLE, Inc. must cancel or reschedule a program for which you are registered for any reason, we will refund your registration fees or transfer your registration to another program, whichever you choose. Mediation CLE, Inc. is not responsible for participant expenses related to a program cancellation.
 
PAYMENT POLICY For online registrations, payment by credit or debit card is due at the time of registration. If you prefer to register with a credit or debit card by phone, call 214-901-5888.
If you would like to pay by check, please call 214-901-5888 to register by phone. We will hold your seat for 7 days awaiting payment.
 
ADDITIONAL INFORMATION If you have questions not answered here, email registration[at]mediationCLE.com and we will be happy to assist you. Or, call 214-901-5888.