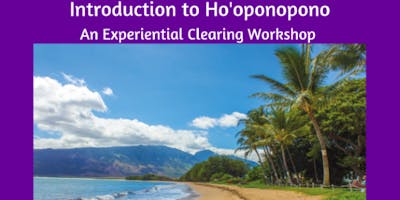 Introduction to Ho'oponopono
                Experience The Powerful Healing & Clearing Benefits Of This Ancient Hawaiian Process
                                                with Ilene Gottlieb, RN ~ The Heart Healer
Are you experiencing a challenge in any part of your life?

Are you always anxious and feeling stressed?

Do you find you're repeating the same patterns of suffering over and over again?

Are you ready to Feel Inner Peace and Heal Yourself, Humanity and our Ancestors?

Join Ilene for a powerful Introduction to Ho'oponopono and special day of Clearing out the Old and all that no longer serves us to hold onto.

Where: The Elliott Museum, 825 Ne Ocean Blvd, Stuart, FL.,34996

When: Saturday, November 16th

Time: 2:00 PM-5:00 PM  (Registration is from 1:30-2:00 pm)

Bring a notebook or journal as you will want to take notes

Cost :Ticket  $ 52.19 plus Eventbrite Fees $ 4.81 total Price $ 57.00 

Cost at the Door $ 57.00

https://www.eventbrite.com/e/introduction-to-hoponopono-with-ilene-gottlieb-tickets-75603055775
This is an experiential workshop designed to assist you in clearing out the "old" energy that no longer serves you and making space for all your heart desires!!
What you will experience:
1. What Ho'oponopono is all about and how this simple yet powerful, ancient Hawaiian process can help you clear out the root cause for "any and all" life challenges whether they be physical, emotional, mental or spiritual! (Yes, I said "any and all"!) 2. Three Ho'oponopono Clearing Tools that you can start using right away! 3. A greater understanding of the Mind-Body Connection! 4. Essential oil enhanced meditation to connect you to your Inner Child and your Heart of Love.
Ilene has been facilitating experiential workshops for 25 years and she loves BEing in this energy with you for primarily one reason: You will actually accomplish something that assists you in your healing journey!! AND you will take home with you tools that you can start using right away!
This workshop is appropriate to address clearing the root causes for fear/anxiety, sadness, childhood abuse, PTSD, grieving, repeating patterns that keep you stuck, relationship challenges and so much more! If you have experienced it, and you're ready to heal it, this process is for you!!
Ilene looks forward to sharing this special time with you!
Ilene Gottlieb, RN ~ The Heart Healer Vibrational Healing From The Heart, Inc. [email protected] (561) 602-1989