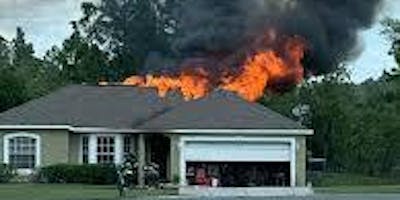 This house rocks!                                                                   9:00am-12:00pm
 There is nothing quite like a firehouse. It can be the most incredible experience of your life or a miserable exile to purgatory. It can be a place of learning where skills are honed and techniques refined or a stagnant cesspool where competence erodes into ineffective complacency. What is it that causes one place to be cohesive and brimming with camaraderie, while just down the road there are dissension and drudgery? Learn five key areas that can turn any firehouse into the type of place that enables firefighters to thrive and fulfill their calling. This class will look at how to build and enjoy the type of firehouse everyone wants. 
Mike Gagliano has over thirty years of fire, crash, and rescue experience with the Seattle Fire Department and the United States Air Force. He is the captain of Ladder Five and a proud member of Fire Station Thirty-one. Captain Gagliano has written numerous fire service articles, and is a co-author of the bestselling book Air Management for the Fire Service and the self contained breathing apparatus chapter of the Handbook for Firefighter I & II published by Pennwell. He is a member of the Fire Engineering/FDIC Advisory Board, a Director for the Firesmoke Coalition at firesmoke.org, on the advisory board of the UL-Firefighter Safety and Research Institute, and teaches across the country on air management, fireground tactics, leadership, and company officer development. Mike also co-hosts the popular Fire Engineering radio webcast, The Mikey G and Mikey D Show, and partners with his wife Anne at firelife.com to teach on strategies for developing and maintaining a strong marriage and family.
 Lunch Included On-site                                                                       12:00pm-1:00pm
The Art of Go / No Go!                                                          1:00pm-5:00pm
 Should you commit to an interior attack or do something else? Mike Gagliano shares a simple framework that allows you to build on your experiences and develop an intuitive approach to fireground decision making. The goal is to create varying profiles that allow you to stay focused on your decisions and give you the ability to draw on what you've learned as you react to changes in the dynamic fire environment.
The toughest and most impactful decisions you make in your career typically will revolve around committing to an interior attack or choosing another route. Seasoned officers know the difference between "We can get it" and "It's lost." All firefighters should as well. Using a simple framework that allows students to build on their experiences and those of others, the instructor will guide the students in developing an intuitive approach that will grow with them throughout their careers. The goal is to create a framework of four profiles--Rescue, Fire, Building, and Tactical--which will allow students to keep focused on their decisions, to draw on what they've learned, and to react to changes in the dynamic fire environment. Students will leave the class with a tool they can use for drilling their troops and for continuing to grow in their capacity for making successful fireground decisions.