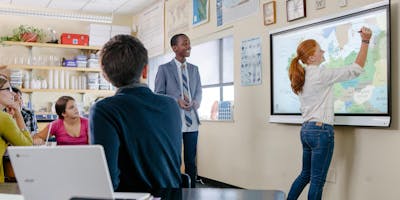 Join SMART and Teq for an inspiring day of professional development focused on enhancing curriculum and instruction.
Topics will include
"SMART" Integration with Chromebooks and G Suite
SAMR and SMART Boards
The impact of SMART Learning Suite on language acquisition.
SMART's latest line of interactive displays will be available to test, as well as the latest innovations in SMART's software, including integration with G Suite, the new release of SMART iQ 3.2, and SMART Remote Management.
Who should attend: School curriculum leaders responsible for integrating technology into instruction and improving instructional outcomes. School technology leaders interested in learning about the latest innovations from SMART Technologies.
Tour the Center: Attendees can enjoy a free tour of the Liberty Science Center following the program. They will also receive discounted passes to return to the Center with their students.
There are no parking fees for this event.