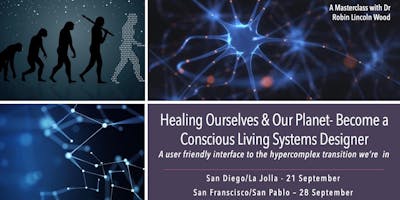 Healing Ourselves, Healing our Planet- Becoming Conscious Living Systems Designers
A USER-FRIENDLY INTERFACE TO THE HYPER-COMPLEX TRANSITION WE ARE IN
Feeling despair at the state of the world? Fires burning, ice melting, immigrants crying, politicians raving, markets crashing? The Conscious Living Systems Design workshops are a place where you can flip despair, frustration and anger into hope, excitement and positive action. You will be surrounded by peers from all walks of life who are serious about healing ourselves and healing our planet, and the workshops are designed to be accessible to those with little or no background in design.You will discover a powerful new set of models and ways of looking at and engaging with the world that liberate our human genius and potential.
We live in a time of unprecedented personal and social turbulence. In order to survive, let alone thrive, we are asked to accelerate our own personal transformation, while at the same time using our dwindling resources to transform our societies and world. For many of us, this quickly becomes mission impossible. So, what would remove that "im" in front of possible? How can we make this mission "possible"?
Mission possible requires us to align our internal thinking and feeling with the flow of energy, information and meaning that is streaming through our magic world creating triangle of context, processes and relationships every moment. In other words, to recognize the power we have in every moment to transform our world by transcending existing perspectives to see what is wanting to emerge, and midwife it into existence.
This is where models with extraordinary explanatory power are vital, enabling us to re-perceive our situation and make transformative leaps rather than merely incremental changes akin to re-arranging the deckchairs on the Titanic.
In the past year an extraordinary clarity has emerged through the evolution of two of the core models in the Conscious Living Systems Design toolbox- the first is the Conscious Living Systems Design model itself, which enhances our ability to recognize the world-creating flow of energy, information and meaning that is naturally emergent, as viewed through the natural and social sciences. We begin to see how to shape and design actions and interventions that energize, inform and motivate beneficial shifts in our lives, work, organizations and institutions, thereby generating designed emergence.
The diagram below illustrates how the conscious living systems design model enables us to find the leverage points in each part of a conscious living system at any scale, in order to shift that system into a healthier mode of functioning. The examples of personally and socially constructed realities are examples of the actual templates we will be using to illustrate the power of the conscious living systems design approach.
Following dozens of events and webinars that have proven the effectiveness of Conscious Living Systems Design for hundreds of leading-edge thinkers and practitioners in dozens of countries, we have developed a practical approach to applying the core models to personal and social transformation. At the personal level, we are using CultureView personal and group assessments to illustrate how Conscious Living Systems Design can accelerate personal transformation.
At the social level, we have been testing an approach to social transformation through the Green New Deal which is moving into the political sphere and potentially influencing political and other leaders in California, Washington State, New Jersey, the House of Representatives and the UK Parliament. Our aim is to widen this inquiry through our Healing Ourselves, Healing our Planet global network, to several other countries poised on the edge of this transformative leap.
WHAT PARTICIPANTS HAVE SAID ABOUT THEIR EXPERIENCE
"That was magic" 
Silicon Valley veteran Glenn Osaka Strategy, Customer Experience, & Innovation. Advisor, Consultant, Board Director
"Powerful stuff!" 
Ex-Chief Sustainability Officer of Palo Alto Gil Friend, Founder of Natural Capital Solutions
"This cut through all the complexity like a knife through butter" 
Senior Executive, IBM
"You should be presenting this to the Governor of California" 
Spiral Dynamics Wizard Said Dawlabani
"Such a special gathering, a true honor to be with such radiant souls. You have a beautiful vision of the future. A big collective leap." 
Alan Laubsch - Former Vice-President of JP Morgan's Risk Management Solutions Group, Director of Natural Capital Markets at Lykke Exchange
"Amazing participants from many countries and walks of life all with an interest in walking the walk as well as talking the talk. An inspiring and uplifting day."  
Graham Mummery- Former corporate banker at Barclays, now an Integral Psychotherapist
"Managing oneself is a key challenge for today's leaders. The day provided me with the learning, insight, guidance and support to rejuvenate my lifeforce. A day invested with fantastic outcomes. Get on the pathway to developing your capabilities, exceed your goals & join with the many that are already on the journey." 
Glenn Frommer- Formerly NASA, MTRC, now Managing Partner- ESG Matters:
"A fantastic experience, sharing knowledge and understanding with fellow thought leaders, who are concerned about our global challenges, and are actively taking action to create solutions and effect change."
 Mark Pearson- Regional development expert and founder of CSR Brettargh
"Your model has incredible explanatory power- an eye-opening and thought-provoking day- thankyou!"
Dr Darrell Gooden, Industry Liaison I Engineering / Energy, Environmental & Utilities
"While the form of the day was a prototype, the essence was stunning. I look forward to integrating more of the acupressure points into my vocabulary.  Looking forward to harnessing synergy and virtuous spirals."
Eric Heggen, RA, Senior Project Manager, Design and Construction UCLA
WORKSHOP DESIGN
The focus of the day will be on practical applications of the CLSD and Global Transition models, and will not need a prior introduction to either of those for newcomers. (Although those Round One participants will have a deeper experience thanks to their earlier immersion in the models). Here are the two practical "Apps" we will focus on:
0930 - 1230 - Personal Transformation - "Where are you in your own Momentous Leap"? (with a focus on the application of the CLSD and GTM to the CultureView diagnostic results for each participant and the group.)
1400 - 1645 - Social Transformation - "How can you be more effective in catalyzing momentous leaps in society?" (with a focus on the Green New Deal and other catalytic agendas).
1700 - 1800 - Synthesis and Crystallisation of Insights, Personal Learning Agendas and Next Steps
In order to participate effectively, participants will need to complete an assessment to find out where they are in the momentous leap, and also what their personal and professional priorities and preferred modes of change and transformation are. This assessment is called CULTUREVIEW and is one of the most powerful instruments I have ever used in 4 decades of leadership and transformation. NOTE- this is an anonymous group report- the group will receive this report for themselves, and will also each get a personal assessment that can be used for coaching and personal feedback sessions.
REQUIRED READING FOR ROUND TWO OF THE CONSCIOUS LIVING SYSTEMS DESIGN GAME-
Participants will need to download a copy of "The Momentous Leap- Thriveable Transformation in the 21st Century: Healing Ourselves, Healing our Planet"- https://amzn.to/2Nk9hQV 
Here is a short excerpt from the introduction to my book of that title to give participants some insight into what I mean by these two words: 'Momentous Leap' -
"The Momentous Leap, the 8th book by award-winning author Dr. Robin Lincoln Wood published just one year ago, explores the most exciting transition humanity has ever experienced. Right now, across our planet, people are developing worldcentric, systemic perspectives and capabilities that will not only resolve most of the challenges we currently face – they will also transform our species and what it means to be human.
Imagine a world powered by renewable energy, where all human beings thrive in resilient habitats; where businesses operate in a circular economy that regenerates natural capital, without a particle of waste, led by enlightened leaders whose goal is to maximize the thriving of all stakeholders; where each individual is empowered to pursue their passion and make a living in service to others; where governance systems are transparent, effective and wise in the ways in which they deliver their services to their communities and populations; and where intercultural appreciation and insight enriches the exchanges between the diverse worldviews and cultures embraced by humankind.
Does that sound like an impossible dream? Every single one of these "pockets of the future" is currently observable in the present, right here and right now, somewhere in the world. This exceptional book is a guide for those who wish to understand and take part in this global transformation, showing us how to connect and align with the pockets of the future in the present that will become mainstream reality for most of us by 2030. You will also discover the roots of the rapidly growing regenerative, distributive economy, along with the emerging social and political systems that can ensure a thriving future for us all, and a flourishing biosphere for all life on earth.
You will learn how to transcend and master the apparent chaos and complexity inherent in our globalized, post-modern world, so that you can not only adapt to the massive shifts underway, but also help shape them. Despite the doom and gloom of many today, there are 700 million plus people leading the way toward a thriveable future- what Peter Drucker called: "Getting into our strategic psychological helicopter and transcending the problem", enabling challenges to be viewed from multiple perspectives and producing breakthroughs at emergent, unprecedented levels of thinking.
You will discover how enlightened mainstream leaders (many still "undercover"), are shifting their policies, businesses and investments toward renewable energy, resilient cities, circular economies and conscious leadership; and how those making the leap from the cultural creative world also number in the many millions, especially the activists, organisers and civil society leaders. You will also learn of the artistic, cultural, design and social leaders inspiring a tsunami of talent doing well by doing good, dedicated to making a better world and a positive difference, along with the younger generations now surfing this big wave, embracing a broad diversity of visionary actors of all ages that are reshaping whole social, economic, cultural and educational systems in more holistic, joined-up ways.
We are operating in a turbulent field of social transformation. The ride is guaranteed to be full of shocks and surprises, as well as amazing new opportunities. You can be a part of a thriving future that regenerates our biosphere and our global civilization to be a more peaceful, sustainable and enjoyable place to live. The rewards of healing yourself, and healing our planet at the same time, are immense. No matter where you are on your own journey, applying the thinking and frameworks in this book to improve your own practices and skills will help you become more focused and powerful in your efforts. Your fellow travelers are already out there, waiting for you to connect up with them, and make the momentous leap together."
Together, we can do this. Come join us!