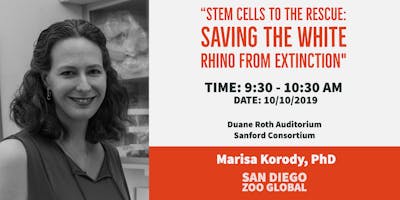 Southern California Stem Cell Seminar Series, October Speaker, Marisa Korody, PhD:
 
"Stem cells to the rescue: Saving the northern white rhino from extinction"
 
Seminar Speaker:
Marisa Korody, Ph.D.
Conservation Genetics Program
San Diego Zoo Global
Lab Website
 
Hosted By:
Lawrence S. B. Goldstein, PhD
Distinguished Professor,
Dept of Cellular and Molecular Medicine,
Dept of Neurosciences
Scientific Director, Sanford Consortium for Regenerative Medicine
Lab Website
 
Brief Biography
Dr. Marisa Korody serves San Diego Zoo Global as a Scientist in Conservation Genetics.  In this role, she is working on the northern white rhino rescue project.  She works closely with collaborators at The Scripps Research Institute to optimize the production of induced pluripotent stem cells (iPSCs) from banked rhino fibroblast cells in the Frozen Zoo® for potential use in assisted reproductive technologies.
Marisa started at the Institute as a Research Associate, where she had the opportunity to work with both our cytogenetics and molecular genetics teams. In this role, she was responsible for establishing, growing, and freezing cell lines from native and endangered animals for banking in the Frozen Zoo®. Her molecular genetics work included paternity analysis, bird and mammal sexing, and species identification. Now she helps teach our Frozen Zoo® Cell Culture Seminars, in which participants learn cell culture techniques, enabling them to save living cells from endangered species in bio-banks around the world. Marisa also enjoys experimenting with sample preparations, new media combinations, and antibiotics for adding challenging amphibian cell lines to the Frozen Zoo®.
Seminar Objective
The Stem Cell Program was founded on the unique strengths of the UC San Diego research community, with its unparalleled cross-disciplinary collaborations and strong basic and comparative biomedical science programs.
The University of California, San Diego Stem Cell Seminar Series is intended to stimulate the exchange of experience with researchers outside of UC San Diego, enhance interactions with sister institutions and biomedical campuses, and promote education in stem cell research.
The monthly Stem Cell Seminar Series brings scientists from all over the world to the forefront of regenerative medicine and emphasizes the basic research and translational themes of stem cell research. These seminars provide an opportunity for the "Mesa" community to learn about the work being done by prestigious researchers from other institutions, preview unpublished scientific results, initiate collaborations and build networks. The speakers invited provide novel insights into stem cell functions, tissue development, and cell-based approaches for the treatment of diseases.
 Goals
We strive to promote unparalleled cross-disciplinary collaborations and strong basic and comparative biomedical science programs and support development of essential core facilities and facilitate training and educational activities.
Solution
These goals are accomplished through presentations by distinguished invited speakers from various avenues of stem cell research and by poster presentations by graduate students and post-docs.