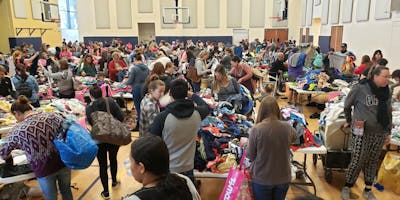 Skyline SWAP     ………………   A Community Event
Swap Day is November 9th 2019 from 8am to 1pm
Drop Off Days are Thursday, November 7th from 1pm to 6pm AND Friday, November 8th from 9am to Noon
 How it Works?
Clean out your home & find items to swap
Drop off your items in advance during the drop off days OR bring them on the swap day. Advance drop off earns you 5 extra items during the swap
Your items will be counted and you can freely take the same number of items on swap day
If you come without items to swap, or you want more items than you bring, it's ONLY $1 per item
100% of money collected goes to Skyline's ministries and all items left over are donated to local charities
**** DONATIONS ARE GREATLY APPRECIATED SO PLEASE DROP OFF ITEMS EVEN IF YOU DO NOT WANT TO SWAP! If at any time throughout the year, you would like to donate to the next swap, we have free pickup. Request a pickup by texting to 619-916-6166.
 Where is it at?  Skyline Church www.skylinechurch.org   in the Gymnasium, 11330 Campo Rd., La Mesa, CA 91941
What to SWAP?
Anything that you feel another person can use! Typically ….
Clothing (men's, women's, children's – all sizes)
Accessories (jewelry, shoes, purses, belts, hats, etc.)

Housewares (kitchen supplies, linen, books, blankets, DVDs, etc.)
Décor (wall art, knickknacks, lamps, small furniture, etc.)
Baby Gear (cribs, strollers, chairs, changing tables, bouncers, etc.)
Toys, Tools, Sporting Goods, Games etc.
Furniture
 
**** Please only bring items in clean GOOD CONDITION. We will not accept broken things. We will not accept stained or torn clothing. We gladly accept donated hangers.
 
How much does it cost? $2 to enter; 12 and under free; free to park
$1 per item if you come without items to swap, or you want more items than you donate
 
How do I get notified of future swaps?
"Like" and "Follow" us on Facebook at https://www.facebook.com/skylineswap/
 How often does Skyline do swaps?
Swaps are done twice a year so be sure to save your donations knowing another swap is on its way!
 
Why should I participate?
To recycle, reuse & reduce
To support local charities and church ministries
To donate knowing your donations will be blessing others