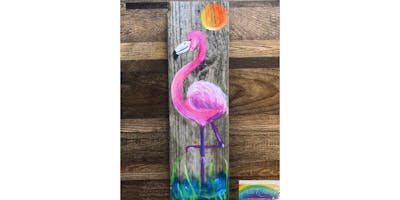 Join Artist Katie Detrich, owner of Welcome to Neverland School of Imagination, at Greene Turtle!
Katie will guide you though the creative process while you enjoy time with friends and family! Your ticket includes art materials and instruction only.
Check-in starts at 6 PM. Please enjoy appetizers, dinner, dessert, and drinks!
Paint instruction will begin promptly at 6:30 PM.
Sample in photo: 18" Pierwood 
Flamingo is Predrawn on
Paint on your choice of pierwood, pallet wood, bushel basket lid, slate, and more! 
Paint with us! Let's create a masterpiece!
*Aprons are not provided, but you can purchase one at check out.
*All artwork is property of Artist Katie Detrich