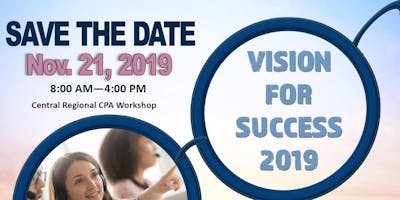 AGENDA DETAILS COMING SOON
The planning team is still putting the final touches on this year's Central Regional Workshop Agenda. 
PAYING BY CHECK INSTRUCTIONS:
1. Click the green 'REGISTER' button and select the ticket and quantity you want to purchase. You will need to enter details for each attendee on the next page. 2. Complete the registration form 3. Click 'Show' under 'Other Payment Options' field in the lower right corner of the form. (This is in small font, so look closely.)4. BEFORE SUBMITTING, Save or print the completed registration form for your records. 5. Submit your registration by clicking 'Pay by Check' blue button
CPA is California's leading organization providing professional development and training to career and employment services professionals.
Who should attend? If you work in career services, job placement, career center, disability services, veteran's services, one-stop center, worksource center, or other similar settings, human resources, recruiting, talent acquisition / talent management, staffing, or related field, this is the event for you!
Pay less for events - become a CPA Member! Visit http://calplacement.org/membership-and-benefits
Questions about this event? 
Workshop Questions, contact Sara Rivas, [email protected] Registration / Membership Questions, contact Rosa Asencio [email protected]