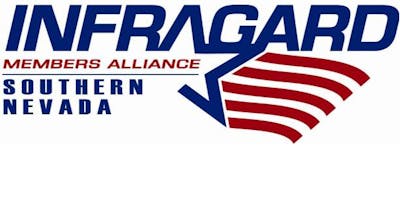 This is a CLOSED meeting and Membership will be verified at the door by FBI (bring appropriate government-issued ID). Note that in-process applications are being reviewed as quickly as possible to enable attendance of those not yet cleared for membership.
CLOSED Meeting - Topic: National Threats Seen Locally
This quarter's meeting will address several related topics which unpack broad and narrow looks at local national issues seen here locally. SA Buel will present on the cyber threat landscape in cluding how Nation State actors have been active. SA Bradford will address workplace violence and a recently discussed resource sheet for identifying potential threats. Other discussion will touch upon a recent local Fusion Center notice. The common thread is local threats, and our opportunity in a CLOSED session to discuss in a bit more detail.
Andrew Buel is a Special Agent with the FBI and is assigned to the FBI Las Vegas Cyber Task Force. He has investigated criminal computer intrusions and national security matters, to include ransomware, point-of-sale malware, business email compromises, botnets, IP hijacking and other cyber-related investigations. SA Buel is a member of the FBI Cyber Action Team (CAT), a specialized, intrusion response team deployed globally at the direction of FBI Cyber Division to bring in-depth cyber intrusion expertise and specialized investigative skills to FBI initiatives, investigations, and national emergencies. SA Buel holds several industry certifications, including Bluecoat, Cisco, CompTIA, Fortinet, Packeteer, Microsoft, and GIAC certifications.
Chapter business for members, updates from FBI, and the always-encouraged interaction between members will proceed and follow the presentation. Tickets (free or paid) are for the purpose of headcount for lunch, and FBI will be handing the sign-in at the doors. Lunch will be served at 11:15am.
Please consider getting a "paid" (donation) ticket to support this meeting's lunch expenses. Even with our sponsorships, there is a budget shortfall which "paid" tickets help offset. If every member would choose a "paid" ticket once each year, our gap would be solved.
InfraGard SNMA operates through an all-volunteer Board and the financial support of donors and our annual sponsors. InfraGard SNMA would like to recognize the 2019 sponsors: Sustaining Sponsor – Checkpoint; Supporting Sponsors – BluIP, Caesars Entertainment, ISSA Las Vegas, Las Vegas Sands Corporation, MGM Resorts, and The Cosmopolitan of Las Vegas.