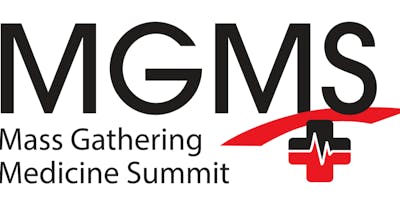 The Mass Gathering Medicine Summit 2019
SLS Las Vegas, a Tribute Portfolio Resort// Las Vegas, Nevada // March 15-16, 2019
The fourth annual Mass Gathering Medicine Summit provides the only annual conference & symposium for mass-gathering medical professionals to network, learn from one another, establish partnerships, and understand the latest trends in medicine. 
We are excited to announce new topics and speakers at this landmark conference, insuring that attendees at all levels – EMTs to physicians, new to mass-gatherings or seasoned professional – can all find the answers and creative new ideas that they are looking for. Join medical professionals and public safety executives March 15-16, 2019 in Las Vegas, NV for the 4th Annual Mass Gathering Medical Summit (MGMS) with scores of keynote presentations, informative panel discussions, breakout sessions, social activities, and more! You will not want to pass up this rare opportunity to meet with industry leaders and visionaries in an intimate setting!
What will be covered this year?Providers and experts from specialty groups, hospitals, major sporting events, corporate sponsors and music festivals will convene this May to discuss the following topics:

Protocol Updates

CME Credit

Austere Medicine

Legal Issues 

Limited-Resource Medicine

Integration with Security, Public Safety, and Medical

Planning for Mass-Gatherings

Event Management

Networking Lunches

New Technology

Treatment for Malignant Hyperthermia in the Field (brought to you by ThermoSuit)

Interfacing with Regulators

Experts from the Super Bowl, 2016 Rio Olympics, Madison Square Garden, Boston Marathon, EDC Las Vegas, Secret Service, and more!

2018 Sessions Included:
Paul Pepe, MD MPH - Dumb Founded Discoveries - You Don't Have to Be a Genius to be a Game Changer
William Brady MD - Extrication of patients from venue area to medical care at mass gathering events
Pete Carlo PA-C - The Black Swan: Lessons Learned from Las Vegas
Andrew Bazos MD - Eventful Remarks: The Evolving Disciplines of Special Event & Mass Gathering Medicine
Matt Friedman MD, The Zombie Revolution: What EMS Needs to Know About Synthetic Drugs
Asa Margolis DO – In the Crosshairs: How to Conduct a Medical Threat Assessment
Kevin Jones – Jumping Through Hoops: Medical Support for Adventure Races Across Boundaries
David Milsten MD – Mosh Pit Mayhem
Brandy Ferguson MD MS – Top Five Disaster Principles to Implement When Planning Your Mass Gathering
Alex Arroyo MD – The Fight Club: The Role of Ringside Medical Providers
Dax Cochran– How to Beat the Heat at a Major Féte: Weather Considers at Outdoor Event
Eric Goralnick MD – VIP Medical Care for All: Innovations from Gillette Stadium
Tony Pugliese NRP– Securing Your Venue Against Modern Threats
Matthew Levy DO – Preparing for the Imminent Threat: When your Mass Gathering Becomes an MCI
Asa Margolis DO – Prehospital Ketamine for Excited Delirium: Just a Bunch of Hype?
Evan Weinstein, John Reese, Nathan Armstrong – Producers Persepctive Panel: Effective Mitigating Risk at Major Festivals
Douglas Kupas MD - Earning Your Badge: Medical Care at the Boy Scout Jamboree
Paul Snobelson, NRP - Mass Gathering Post-Incident Support Model (MGPISM): Methodology & Conceptual design for Mass Gathering Environments
Kari Sampsel MD - Sexual Assault at Mass Gatherings - the Reality, the Responsibility, the Response
 
FAQs
Where can I contact the organizer with any questions?
[email protected] or www.MassGatheringMedicine.org
 
Is my registration/ticket transferrable?
Absolutely! Shoot us an email at [email protected] - a small transfer fee may apply.
 
Can I update my registration information?
Yes, please feel free to reach out at [email protected] to update your name, title, contact info, etc.
 
Do you offer refunds?
Unfortunately we are unable to offer refunds.