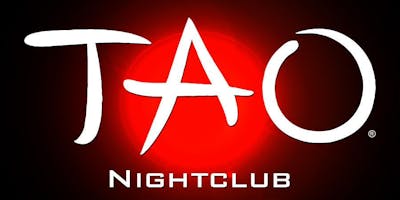 TAO Nightclub @ Venetian - Guest List
REGISTER as soon as possible to be added to the Guest List - space is limited!!
Exact Guest List and/or ticket details will be e-mailed to you the week of the event. This is NOT a ticket of admission. Make sure you read your email for instructions!

TAO Nightclub Las Vegas
Tao Las Vegas has been one of the strongest performing nightclub venues in Las Vegas. This multi-faceted and multi-story party place is home to a restaurant, lounge, nightclub, and pool party.
Tao Nightclub has multiple rooms for you to explore each with it's own type of music and design. Each year Tao adds something new to the club. Weather its new lighting, a redesigned DJ booth, or adding a flying model that delivers your bottle service from the ceiling.

Tao Nightclub has been known the have the hottest go go dancers and production girls in the industry. Look to your left and you may see an exotic girl lounging in a bathtub filled with rose petals. Look to your right and you'll see dancers near the ceiling above the DJ booth. Tao is all about attention to detail, and you will find it throughout the club.
The dance floor is always jumping, and with multiple bars it is easier to get a drink than in other spots around town. All in all you can't go wrong with Tao Nightclub. If you are looking for a Tao promoter you have landed in the right place.
TAO VIP BOTTLE SERVICE
$500 table for up to 6 people, 1 bottle
$1,000 Skybox for up to 10 people, 2 bottles
$1,500 Booth for up to 12 people, 2 bottles
$3,000 and up for Dance Floor for up to 15-20, 6-8 bottles
Common bottles of alcohol are priced between $500 and $650. Feel free to ask about the Tao menu. These prices do not include 8% tax and 20% gratuity. The price for the tables and the bottles are the same thing. All of your spend for the table goes toward your bottles. As a minimum in Vegas it is common that you will need to purchase at least 1 bottle for every 5-6 people in your group.
Bottle service tables for Tao Nightclub start at $500. Tables at this entry price will likely not have placement in the main room, but will be in the Opium room. Tables in the main room start at $1,500 with placement in the Skybox. Tables in the moat of the main room start at $2,000. The best tables are located near the dance floor and are priced starting at $3,000.
Pricing may vary depending on the night of the week, who the performer is, and how busy the club is. Note that for special events and holidays pricing can go up.
TEXT (323) 886 - 2525 for VIP Bottle Service Reservations!!

SAVE up to 30% on Hotels in Las Vegas!!
GET THE LOWEST HOTEL QUOTES NOW!