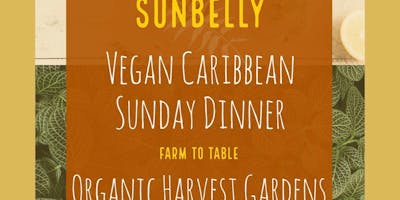 Sunbelly Foods, Organic Harvest Gardens and Market LOVr are excited to bring you a farm-to-table Vegan Caribbean Sunday Dinner
Chef Ośunkoya Chavon of Sunbelly is excited to be sharing space at this enchanted garden that puts to practice daily the values that Sunbelly Foods is rooted in. Sunbelly is geared towards weaving comforting flavors and healing foods to find that sunshine within. Ośunkoya does this through creating events, offering meal planning and meal prep for clients, and in-home private cooking for families. 
Chef Rod, co-founder of Organic Harvest Gardens, an outstanding urban farm in North Long Beach, is a private and world-reknown chef and gardener who works closely with many local restaurants to bring them a direct source of  sustainable, wholesome, and ethical ingredients. 
Chef Kyle is the founder of Market LOVr, a community-based organization that's centered around providing tangible experiences with plant-based food in LB and Compton through events such as donation-based pop-ups, food demos and cooking classes. 
So join us for a Sunday afternoon with the fam and some never-do-you-wrong Caribbean comfort food.

Directions - *A little tricky as Google maps won't take you to right locaiton. 
Directions coming northbound 710:
-North 710
-Exit Artesia Blvd 
-Turn right on Artesia
-Left on Atlantic
-Go under the 91 freeway
-Turn left on East 68th street  
-Alley way after 91 between two apartment buildings. Go all the way down & stay to the left