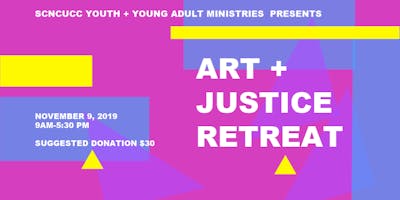 The Youth and Young Adult Ministries presents its inaugural Arts and Justice Retreat for high school (14-17) and young adult (18-25) members of the SCNCUCC and local community members.  The Arts and Justice Retreat aims both to cultivate greater critical awareness around justice issues, and to provide skills and tools to take action on a local community level.  The justice retreat will focus on the following areas:

Racial Justice

Environmental Justice

Disability Justice

Gender and Sexuality Justice

The Arts and Justice Retreat will provide an opportunity for youth and young adults to build community, engage in meaningful justice based conversations, and learn how to strengthen our spiritual and compassionate connection with the earth and each other.
Goals

Create a safe and welcoming space for youth and young adults to explore justice issues.

Provide opportunities through art and educational experiences that help develop knowledge and skills in order for participants to take action in their own schools, churches, and community.
Check in is at 9 am.  Event starts at 10 am.  The event will consist of a panel, keynote, and workshops lead by community members and activists; AND a community art project and showcase.  Snacks and lunch will be provided.
Suggested Donation $30
For more information about the event and to learn more about our slide scale donation prices contact:  Mary Traylor at [email protected]
If you are able to donate more to help sponsor someone else to attend this event, we invite you to do so.