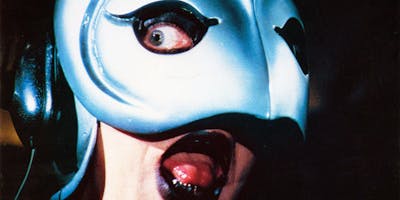 Part of our MUSICAL MERRY-GO-ROUND series. Friday, July 19, 2019 @ 11:59p, The Vista: PHANTOM OF THE PARADISE (1974, Fox, dir by Brian De Palma, 35mm with DCP back-up)
One of the most surprising aspects of Brian De Palma's long career is his early penchant for and talent with satiric comedy that was able to both critique and celebrate the craziness and excesses of the times in which he was living.  Along with Hi Mom and Scarface, Phantom of the Paradise belongs in an unofficial trilogy of satire and genre that reveals deeper veins of observation.
De Palma's unhinged, hilarious, cinematic musical re-telling of The Phantom of the Opera finds Winslow selling his soul so that he can give his music to Phoenix (played by Suspiria's always wonderful Jessica Harper) to make her famous. But Swan (played to the hilt by music legend Paul Williams) steals the music and instead opens up a kind of Fillmore/Palladium/Hollywood Disco Bowl from hell, The Paradise.
What follows is a series of over the top but wonderfully delicious musical numbers that skewer and celebrate the musical genres of the 1970's while delivering the trademark De Palma cinematic fireworks. All wrapped up in a satire/horror movie/1970's glam rock musical bow.
This is one of those movies that folks just love more and more. Come join us for one of De Palma's all-time best. 
Best always,
Craig Hammill
35mm Secret Movie Club Programmer.Organizer 
SECRET MOVIE CLUB FREQUENTLY ASKED QUESTIONS: 
TICKETS: Tickets for all our events are available online at https://secretmovieclub.eventbrite.com or through each individual event on our Facebook Page: 
https://www.facebook.com/secretmovieclub35mm/. 
Unless otherwise noted, all our movies screen at The Vista Theater, 4473 Sunset Drive, Los Angeles, CA 90027. 
We currently are showing 1-2 documentaries with Director Q&A's afterwards a season at the Los Feliz 3, 1822 North Vermont Avenue, Los Angeles, CA 90027; about 8 blocks from the Vista Theater in Los Feliz. 
We also make tickets available at the Vista Box Office.
REFUNDS: We will honor all refund requests as long as they are made 24 hours or more before the listed start time of the screening. After that, no refunds. Sorry. 
HOW DOES A SECRET MOVIE CLUB 2019 SINGLE SEASON or MULTI-SEASON ALL-ACCESS PASS WORK: If you buy an SEASON or MULTI-SEASON ALL-ACCESS PASS (access to all movies we're showing within one season or multi-seasons as listed on the pass), you get entrance into every single movie we show throughout that time (including any special events we may announce at a later time; so your value may increase!). We offer SPRING and SUMMER 2019 SEASON PASSES individually (for example, if you know you will be able to attend in Spring but not Summer; a great deal at $6 a ticket) and a MULTI-SEASON PASS (all 83 events in both Spring & Summer 2019, our best deal at $4.50 per ticket). These passes are available through the following EVENTBRITE LINK: 
https://secretmovieclub.eventbrite.com
If you decide to buy the SEASON or MULTI-SEASON ALL-ACCESS PASS and have already bought a series pass or individual ticket, just write us: [email protected] and we'll issue you a refund for the individual tickets you bought so you can get the all-access pass.
Each pass is available for purchase online until the start of the first event of the season that would be covered by that pass. 
With the ALL-ACCESS PASS, we generate a special list with your name on it. All you have to do is come to our table ahead of each movie, give us your name, and get your ticket.
HOW DOES A SERIES PASS WORK: If you buy an Individual Series Pass, you gain entrance to all movies in that series. This is our next best deal at $9 a ticket after an All-Access pass at $4.50 or $6.00 a ticket. If you want to see all the movies in a particular series but not necessarily all the movies in a season this is the way to go. 
The price of each Series Pass depends on how many movies we show in that series. So for instance if we are showing 7 movies in the series, the pass would cost $63 (or $9 per movie). If we are showing 4 movies in that series, the pass would cost $36, and so on. 
You can buy the Series Pass through any individual Eventbrite link for a movie in that series. Then, we generate a special list with your name on it. All you have to do is come to our table ahead of each movie, give us your name, and get your ticket. 
MOVIEPASS AND OTHER PASSES LIKE IT (as of February 2019): While we do accept and want you to use your special passes, we advise all moviegoers to first check the current rules and regulations of their pass to make sure their pass is accepted for our events. Secret Movie Club and the Vista Theater are not associated with nor responsible for any changes in policy on the part of any outside vendor offering a pass to Los Angeles screenings or any similar service.
CONCESSIONS: The Vista Concessions stand is open for all our events. So you will always have access to popcorn, soda, candy, coffee the works!
PARKING: The Vista has no dedicated parking lot. Thankfully, there is parking in the residential areas around the Vista Theater. Just plan to get to the theater 20 minutes earlier than normal so you have enough time to park, walk to the theater, get your tickets, get in line. Make sure you read the street signs! Hillhurst and Sunset Drive tend to be the best for street parking. Avoid Rosalia and Commonwealth as they have permit-only parking rules. We don't want any Secret Movie Clubbers getting parking tickets. 
SHOWTIMES: We screen our movies before or after the Vista's official movies. This is why most of our showtimes are either at 11:59pm or between 10am-11am in the morning. Always check the listed showtime before buying your ticket as we do sometimes have to adjust the showtime to accommodate the running time of the movie. 
MAILING LIST: We started as a secret email list way back in April of 2016. In respect to our origins, we will always announce our upcoming seasons, special events, and speakers with the ability to get tickets via the email list first before posting to Facebook or anywhere else. If you'd like to get on the secret email list, email us at: [email protected]
OTHER QUESTIONS: You can always email us at: [email protected] . We work to respond asap within receipt of your email. If you don't get a response within 48 hours, please email us again.