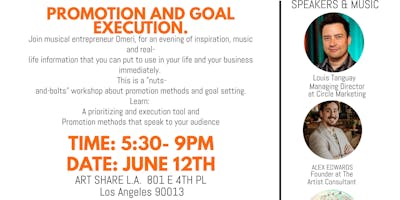 Even if you are seasoned professional or brand new to the business world, this workshop is for you.
This very special event will feature two guest speakers, Louis Tanguay of Circle Marketing who will show you how to take your business from how to WOW.
And goal setting craftsman Alex Edwards of The Artist Consultant will teach you how to set goals
like a boss and then make them happen.
Omeri, musician from Buffalo, NY will be performing some of his original music for your listening
pleasure.