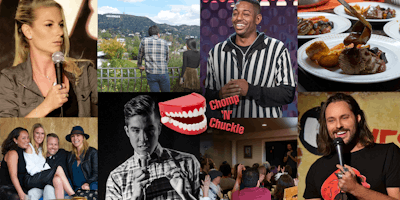 Chomp 'N' Chuckle present a line-up of professional stand-up television comedians accompanied by an award-winning menu crafted by Clever Foodies. So spend this sunday satisfying your soul, as we host you at an incredible private Hollywood Hills home with an exceptional outdoor seating area complete with a breath-taking view of the famous Hollywood sign & Griffith Observatory.
THE FOOD
Every month the champion chefs over at 'Clever Foodies' will be taking over the kitchen to serve a different menu from around the world of epic proportions to fill your belly with pure, unadulterated, gastronomic love...
~*~ ENTREES (choice of 3) ~*~
Beef Wellington (Mustard • Portobella • Spinach • Red Wine • Thyme)
Braised Chicken Francaise (Marsala • Lemon • Parmesan • Parsley)
Tempeh Bourguignon (V) (Dijon • Smoked Paprika • Red Pepper • Butternut)
~*~ all served with ~*~
Roasted Brussels Sprouts (Orange Peel • Red Onion • Garlic • Bacon)
Wild Mushroom Risotto (V) (Thyme • Truffle • Porcini • Roasted Garlic)
~*~ DESSERT (choice of 2) ~*~
Baba au Rhum Cakes (V) (Cranberry • Currant • Pineapple • Spiced Rum)
(Vegan Version Available)
Whipped Banana Nut Brulé (Dark Chocolate • Hazelnut • Brown Sugar • Chantilly)
(Gluten Free Version Available)

About Our Ingredients:
Beef from Niman Ranch (100% True Angus, fed 100% vegetarian diet, NO hormones/antibiotics, humanely raised on environmentally sustainable ranches, bred, born and processed in the U.S.A)
Chicken from Mary's Organic (fed 100% vegetarian diet, NO preservatives/antibiotics/hormones)
All Produce is USDA certified organic and Non-GMO.
THE COMEDY
As dessert is dished out, international comedian and film actor Jeff Leach will host a live comedy show inside the Hollywood Hill home for you to enjoy, featuring some of the best new faces from comedy television shows.
MC: Jeff Leach (Comedy Central / 'London Town', Showtime / 'Dinner With Dani', Amazon / BBC / E4 / ITV2)
Josh Waldron (America's Got Talent / Stand Up And Deliver / Hella Show at The Comedy Store)
Jessimae Peluso ('Comedy Knockout', TRU TV / 'Girl Code' MTV / @Midnight / Chelsea Lately Show)
Brian Moses (Host & Creator of 'Jeff Ross presents Roast Battle' on Comedy Central)

So join us on May 19th for a comedic gastronomy event unlike any other, set in the glamorous Hollywood Hills. We promise to feed your bellies AND souls some incredible home-cooked food and high-end comedy.
FAQs
Q: Are there ID or minimum age requirements to enter the event?
Attendees must be 18+ (if accompanied by an adult) or 21+ if attending on their own and have a valid government ID.
Q: What are my transport/parking options for getting to and from the event?
The street parking is limited so attendees are encouraged to Lyft/Uber to the venue or car-share.
Q: What can I bring into the event?
Just yourself, some cash for drinks and an empty stomach ready to be fed!
Q: How can I contact the organiser with any questions?
Please feel free to reach out on: [email protected]
Disclaimer: Please carefully read the following terms and conditions relating to your participation in any of Chomp'N'Chuckle events which are conducted by Jeffrey Leach, Chomp'N'Chuckle ("Promoter"). For the purposes of this site, and since attendees may register for only one event at a time, all events will be referred to from here forward in the singular tense as simply the "Event."By purchasing a ticket to any event being held at any of our locations ("venue"), you (the "Attendee") signify your acceptance of and obligation to these terms and conditions. If you have objections to the following Terms and Conditions, you should not purchase a ticket or attend any of our events. Attendee Conduct. Promoter requires all Attendees to be respectful and professional to our staff, location hosts, comedians, and other attendees and their guests or families throughout the Event. Promoter reserves the right to ask Attendee and/or their guests to leave the venue immediately should they be deemed rude, uncooperative, unprofessional, intoxicated or in possession of any illegal substance. In such case, the Attendee's payment for the Event will not be reimbursed under any circumstances and they will not receive any future products, services or correspondence from Promoter. Liability Waiver. While we take every possible measure to ensure Attendee safety at the event, we cannot control everything. For this reason, Attendee is legally responsible for their safety and behavior and agrees to, and is held legally liable to, the following statements: I, the willing Attendee of the Event, hereby accept all risk to my health and of my injury or death that may result from participating in the Event and I hereby release Promoter, Jeff Leach, Chomp'N'Chuckle, the venue owners and renters, and their officers, agents, employees, interns, contractors, sponsors and representatives from any and all liability to me, my personal representatives, estate, heirs, next of kin, and assigns for any and all claims and causes of action for loss of or damage to my property and for any and all illness or injury to my person, including my death, that may result from or occur during my participation at the Event, whether caused by negligence of the Promoter, its governing board, officers, employees, or representatives, or otherwise. I further agree to indemnify and hold harmless Promoter, Jeffrey Leach, Chomp'N'Chuckle, the venue tenants and landlord and any third-party company from liability for the injury or death of any person(s) and damage to property that may result from my negligent or intentional act or omission while attending and participating in the Event. Under no circumstances will Promoter or Jeff Leach, Chomp'N'Chuckle or their assigns be held liability for my injury or death or any loss or damage of my personal belongings resulting from my participation in the Event. Should I require emergency medical treatment as a result of accident or illness arising during my attendance and participation in the Event, I consent to such treatment. I acknowledge and I agree to be financially responsible for any medical or legal bills that may be incurred as a result of emergency medical treatment. I will notify Promoter verbally and in writing if I am at any time injured prior to, during, or after the Event in my travels or attendance, or if I have medical conditions about which emergency medical personnel should be informed; however, I understand that Promoter is not legally obligated to act on that information in any way or to providing any medical service whatsoever to me. I agree that if I have any medical or psychological conditions that may hamper me from fully and healthfully participating in the Event that I will notify the Promoter and that the Promoter retains the right to ask that I not participate in portions of or the entirety of the Event. Youth Policy. Children under the age of 18 are not permitted to attend, and persons between 18-21 years old must be accompanied by a parent or guardian throughout the entire event. Force Majeure, Acts of God and Unpredictable Events. In the event of any force majeure, act of god, natural disaster or unpredictable or unforeseen event such as a hurricane, tornado, earthquake, riots, power outages, war, terrorism, explosions, water or sewage outages or any other unforeseen event not specifically listed, we will not be held responsible for this unpredictable event under any circumstances. In the event that an event is cancelled due to unforeseen or unpredictable events such as a hurricane, tornado, earthquake, riots, power outages, war, terrorism, explosions, water or sewage outages we will not issue a refund for the cost of your ticket to attend the event nor will we reimburse you under any circumstances for plane tickets, travel costs, hotel stays or any expenses related to attending the event. In the event of a cancellation we will give you credit to attend another event with no additional fee. Adult Language/Content. During our event, comedians may discuss several adult topics relating to personal experiences, politics, social climate and all other facets of life. We will also occasionally use adult or profane language to emphasize a point or connect with or surprise the audience. Participants who are uncomfortable with such topics or language should not attend the event. Audio/Visual Rules and Release. Attendees may not, under any circumstance, use any type of recording devices video, or audio or otherwise to capture the performances provided at the event. By participating in the event, Attendee understands that portions of the event may be recorded in video and audio and/or captured in still and/or digital photographs by the Promoter. Attendee agrees that the Promoter and its assigns have the right and permission to use such recordings and photographs should they include Attendee's name, likeness, voice, biographical details, testimonial, or photograph for marketing, advertising or any other purpose in any media or format, online and/or offline, now or hereafter without further compensation, permission, or notification to the Attendee. Attendee understands and agrees that all recordings from the Promoter's events are the exclusive rights of the Promoter and Attendee does not ask for or expect compensation for the use of recordings or photographs in which Attendee appears or speaks. Promoter owns all rights of any audio, video, and/or photograph captured during the Promoter's Seminar or at any of the Promoter's other live events. Privacy Policy and Terms of Use. By visiting our event sites and participating in the Seminar, Attendees acknowledge and agree that they are subject to the Privacy Policies and Terms of Use of the promoter, which are subject to change at any time.