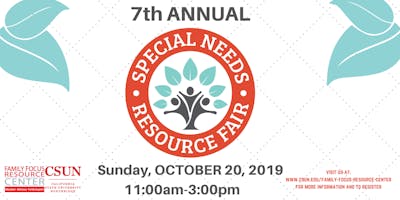 This page is for Exhibitors to register for our 7th annual Special Needs Resource Fair. Proceeds from the Resource Fair support CSUN Family Focus Resource Center's mission to provide parent support and education to families who have children with disabilities. 
The CSUN Family Focus Special Needs Resource Fair is the largest resource fair devoted to individuals who have disabilities in the San Fernando Valley! We generally have 1,000 attendees, both English and Spanish speakers! Exhibitors should provide services specifically for the disability community. The sales of products is not recommended. We reserve the right to reject applicants who may not be a good fit. 
The Resource Fair is from 11:00am-3:00pm. Setup starts at 9:00 a.m. and should be completed by 10:45 a.m.
Exhibitor tables for this event will fill up quickly; we recommend registering early!
If you are unable to pay via credit card, please call us 818-677-5575 and we can assist you in paying via check.
Each 6' table will come with two chairs. Extra chairs are not available.
Access to electricity is available for some tables by advance request. Access to WiFi will be provided to everyone.
Details on setup times, how to request electricity, unload/loading area and parking information will be provided approximately two weeks prior to the event.
If you have questions about this registration page, please contact us at [email protected] or call us at 818-677-5575.