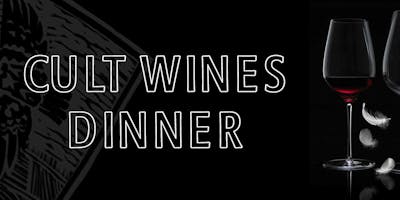 Wednesday | June 12, 2019

Del Frisco's Double Eagle Steakhouse10250 Santa Monica Blvd, Los Angeles, 90067
C.U.L.T Wines Dinner featuring Screaming Eagle.
Taste the rare, the collectible, the mailing list treasures - Blind and pick your favorite. Some of the greatest wines ever made from some of the most exciting vintages. If you own these wines, this gives you a comparative tasting. A value worth over $12,000 in retail wine. If you don't own these wines, you can come see why Napa Valley is the single most exciting wine region in the world today.
This event includes a full blind tasting of all the wines in flights of three and then we reveal. The event includes a full multi-course dinner at one of LA's premier restaurants. Join us. Limited to 24 seats and more wines added at 24 guests. 24 guests = 24 wines, 20 guests = 20 wines. The 18 wines listed below will be there for sure - our minimum number for this event. This is a value proposition. No wine knowledge is needed! Collectors and fascinated consumers alike will enjoy.
This is an event not to be missed!  Please see our wine tasting list below.
Menu (All dietary needs will be met with advanced notice)Del Friscos SaladCHOICE OF:  Filet, Ribeye, Salmon, or Cauliflower Steak;  served with Chateau Mashed Potatoes and Seasoned Vegetables.Cheese PlateDessert
Wine ListScreaming Eagle Cabernet Sauvignon, Napa Valley, USA 2016, 100 pts (Valued at $3000)The Debate Beckstoffer Dr. Crane Vineyard Cabernet Sauvignon, Napa Valley, USA 2014, 100 ptsScarecrow Cabernet Sauvignon, Rutherford, USA 2015, 100 ptsHarlan Estate, Napa Valley, USA 2015 , 100 ptsMarciano Estate Vineyard Red, Napa Valley, USA 2015, 98 ptsHundred Acre 'Kayli Morgan Vineyard' Cabernet Sauvignon, Napa Valley, USA 2015, 100 pts Promontory, Napa Valley, USA 2013, 100 ptsChateau Boswell 'At Anchor' Cabernet Sauvignon, Napa Valley, USA 2015, 98 ptsBond Melbury, Napa Valley, USA 2007, 98 ptsAXR Cabernet Sauvignon, Napa Valley, USA 2016, 97 ptsArkenstone Obsidian, Howell Mountain, USA 2014, 95 pts Argot Wines Starstruck Cabernet, Napa Valley, USA 2016, 97 ptsMoraga Vineyards Estate Red, Los Angeles County, USA 2014Realm Cellars The Bard Proprietary Blend, Napa Valley, USA 2016, 97 pts Relic 'The Prior', Napa Valley, USA 2012, 96 ptsTierra Roja Cabernet Sauvignon, Oakville, USA 2014 - Next to Screaming Eagle, $150 valueTrujillo Cabernet Sauvignon, Howell Mountain Reserve Napa Valley, USA 2015, $150 value Vineyard 29 Cru The Essentials, Napa Valley, USA 2016 - The $60 bottle that could surprise you

Notice regarding allergies, food restrictions + limitations, including beverages but not limited to wine
*Please review carefully any programs you may be interested in that may involve food/ refreshments and/ or beverages. Unfortunately, Refreshments/ Food & Beverage Substitutions are Politely Declined. We try our best to accommodate food limitations/ restrictions. However, it is our policy is to inform you that we make no promises or guarantees of any particular food/ beverage accommodations, regardless of whether wineLA or our third-party venue is providing refreshments/ food and/ or beverages. We make no promises/ guarantees that if/ any refreshments/ food and/ or beverages are free of any allergens, health restricting products. We will not be held responsible/ liable for if/ any illness that may occur while consuming at his/her own free will and at his/ her own discretion.
*Adult Participants must be 21 and over. Valid government issued ID required to attend this event. The entirety of the experience is important and vital for the enjoyment of all adult participants. Our private events are created for adults 21-years of age and older and unable to accommodate minors. Minors are not allowed into any of our events. 
*Please be advised, outside food and beverage is not permitted at any of our events.
*ALL/ANY TICKET SALE IS FINAL. WE DO NOT OFFER REFUNDS/EXCHANGES/CREDITS/TRANSFERS BETWEEN OUR PROGRAMS. Your ticket ownership is transferable: pass your ticket on to family/friends at your own discretion, and at no additional cost. Email us at: [email protected]
PROPOSITION 65 WARNING: Drinking distilled spirits, beer, coolers, wine, and other alcoholic beverages may increase cancer risk, and, during pregnancy, can cause birth defects.