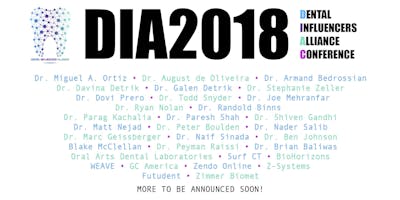 The Dental Influencers Alliance | A Disruption in Dentistry
The #DIA2018 Conference will be held in beautiful Los Angeles, CA at the Hilton DoubleTree Hotel in Downtown LA. 
This event is not your typical dental conference.  The main podium will consist of 20-30 minute Ted Talks format lectures with two breakout rooms for more concentrated lectures and 1 hour hands-on sessions. 
All of the greatest minds in dentistry in one room. 
The first day will consist of lectures going on the main podium all day from some of the top influencers in dentistry.  Simultaneously attendees can enjoy smaller group talks and hands on sessions with top products and influencers from around the World.  
Finally connect face-to-face with your instagram friends.  This is the way a dental event should be!  
"This will be dentistry's greatest event"
"Dentistry has needed this"
"This is so disruptive, I love it!"
"The mold has been broken."
Current Speakers
MIGUEL ORTIZ                   STEPHANIE ZELLER               PETER BOULDEN                      RANDOLD BINNS                        ARMAND BEDROSSIAN             DOVI PRERO                                JOE MEHRANFAR                      NAIF SINADA                              TODD SNYDER                            SHIVEN GANDHI                        PARESH SHAH                           RYAN NOLAN                           AUGUST DEOLIVIERA                DAVINA DETRIK                        GALEN DETRIK                         NADER SALIB                          PEYMAN RAISSI                       BEN JOHNSON                         BRIAN BALIWAS                      BLAKE MCCLELLAN 
AND MORE TO BE ANNOUNCED LATER!
#DIA2018