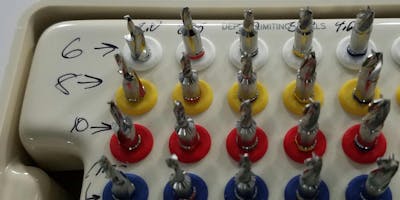 Join us for this very infromative presentation that will you shape your future, as we teach you how to implement the top five platforms that will help your practice grow in the next five years! 
 

Implantology
Sleep Apnea Screening and Treatment 
Medical Billing
3D Diagnosis
Digital Restorations

 

 
Topics to be covered:
 

Get started with placing implants, fully guided, with $0 start up costs!
Cone Beam technology services for 3D diagnosis, treatment planning, and stent manufaturing
Different types of stents offered (that are derived from Cone Beam vs Radiographic Stents vs CAD/CAM data)
How we integrate Cone Beam and CAD/CAM data sets and what you need to ensure a successful surgical outcome
How to avoid mistakes when purchasing a guided kit
Everything you need to appreciate about guided surgery will be presented so you can start utilizing our services the very next day!
CAD-Ray's services can help you whether you have either a Cone Beam machine and/or a CAD/CAM machine!
And much much more...

 
 
 



 

 
 


This event is designed for both CAD/CAM and Cone Beam owners AND non-owners.  It is programmed so that you can have a full day of production at the office and avoid traffic in both directions, for the start and end of the course!  Take advantage of this unique opportunity.
 
 
 
Dr. Armen Mirzayan, the founder of CAD-Ray Imaging, Implant Planning, and Stent Manufacturing Services (through Burbank Dental Lab) will be conducting a seminar on Implantology.  By attending this seminar, you can learn how to get into guided implantology with $0 start up costs.  Also,  Find out how you can generate revenue in your practice for procedures you routinely perform in your practice by billing medical, like X-rays, CT-sans, bone grafting, soft tissue procedures, occlusal applianes, apnea devices and much more.
 
 
This program half live lecture and half self-participation, designated for 13 hours of CE credit by BlueSkyBio Academy. AGD Codes: 690 (6.5 hours) and 719 (6.5 hours).


Cancelation Policy:  Full refund over 60 days from event minus $25 administrative fee. Refunded 50% 30-60 days from event. No refunds, cancellations, or transfers under 30 days from event.