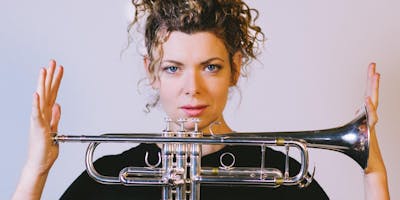 Wednesday Nights will never be the same as the JazzCat LeRoy Downs, Mr Musichead Art Gallery and All Music Television present the Just Jazz Live After Work Concert Series with Steph Richards on Wednesday, June 12th at the Mr Musichead Art Gallery on Sunset Blvd in Hollywood. Come early for a Wine Reception and Art Gallery tour and stay for the music. Visit www.justjazz.tv to check out upcoming shows, artists bios and performance schedules and to buy posters, tickets and now great cusine available for purchase each week from Chef Anthony Goosby and Goosby Kitchen at The Just Jazz Live Music After Work Concert Series.Where Music & Art Meet. Every Wednesday beginning May 23, 2018. Doors open at 6pm. VIP Reserved guests receive guaranted seating and free beer and wine. Limited seating.
Stephanie Richards (trumpet), Band TBA
'Treason Season' -- https://youtu.be/U5f7eJuUSDA
"A trumpeter whose skillset explodes every category," (Nate Chinen/WBGO) Steph Richards "composes in ways that standard notation could never document" (New York Times). Richards has recorded with pioneering artists ranging from Henry Threadgill, Anthony Braxton and John Zorn to St. Vincent, David Byrne and Yoko Ono and her sonic explorations have led to collaborations with performance artists Mike Kelly, Laurie Anderson/Lou Reed. Richards has also worked with creative jazz masters Jason Moran, Ravi Coltrane, Sylvie Courvoisier and others. Driven by a curiosity how listeners interact with music and what sensory variables are open to experimentation, her own compositions have featured across the US, Mexico, Canada and Europe and premiered on stages at Carnegie Hall, the Blue-note and Lincoln Center, to include works for carousel and choreographed ensemble, underwater percussion and 600 found objects.
Originally from Canada, Richards has spent much of her career cultivating a presence while living in Brooklyn, NY. Richards has performed alongside the Kronos Quartet, the International Contemporary Ensemble (ICE), The Pixies and Kanye West and co-produces the FONT Music festival alongside trumpeter Dave Douglas. She is involved with Henry Threadgill's Kestra, Bang on a Can's Asphalt Orchestra of which she is a founding member and through which she has worked with St. Vincent, Tyondai Braxton and choreographer Susan Marshall. She holds degrees from the Eastman School of Music, McGill University and California Institute of the Arts and is on faculty at UCSD.
Her debut record Fullmoon (Relative Pitch Records) was hailed as "a bold pronouncement" (New York Times) and voted on multiple "Best of 2018" year end lists, including as the #1 Record of the Year by Free Jazz Collective. Steph's "ingenious" (WBGO) 2019 record "Take The Neon Lights" has earned high praise, with NextBop calling the record "mesmerizing...fans of avant-garde jazz should definitely give this one a listen".Richards is a Yamaha Artist.