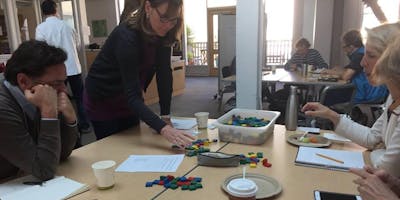 Math Professional Learning Community (LA)
Mathematics is a rich and exciting subject, yet many of our students struggle to feel excitement, to think deeply, and to explore. How do we create engaging math classrooms where students are at the center of the learning and all students feel safe to participate? In this program, we will investigate strategies for engagement, creativity, critical thinking, and inclusivity. Come be a part of a community of thoughtful math teachers and learners that will explore innovative ideas and captivating tasks to make math class matter to our students.
Session 1: Student Engagement and Conceptual Understanding
The first session will focus on developing math lessons to increase student engagement and strengthen conceptual understanding. We will explore and experience a variety of rich, student-centered tasks and analyze the tools and structures for facilitating these tasks. A range of resources to "spice up" our lessons will be shared, and we will support each other in crafting quality activities for upcoming classes.
Session 2: Up for Debate! Building Debate Routines in STEM Classrooms
Debate and classroom discussion have often been staples in the humanities classroom. However, research informs us that classroom conversations are crucial for student learning all subjects. Debate activities are known to increase student achievement and understanding, and the Common Core Standards for Math encourage students to make and defend their claims. Let's explore ways to make it a part of your classroom culture!
In this interactive day, we will experience ways to incorporate debate into everyday math lessons, from warm up routines to classroom activities to summative assessments. We will start by learning some simple structures and routines for creating a classroom culture where students are empowered to discuss and debate math concepts. Then, we will build on these structures to create classroom activities--small and large--that engage students of all levels. Come ready to argue, scowl and show off your debating skills!
Session 3: Assessment and Feedback
During this session, we will explore best practice and the latest research on feedback and assessments to promote student learning in math. Combining research with our practice, we will answer questions around the most effective ways to check for understanding and promote student growth. We will look at some variations on homework, grading, formative assessment and summative assessment in an effort to determine effective applications for our classrooms.
Session 4: Curiosity, Creativity, and Inclusivity in the Math Classroom
During our final session of the year, we will bring all our ideas together to focus on the student. How do we develop curious and creative mathematicians? How do we maintain inclusive classrooms where all students feel comfortable participating in math activities? What are the best ways to promote a growth mindset so that all students can "experience the wonder, joy and beauty" of mathematics?
This ongoing program is aimed at 6th - 12th grade math teachers, though others are welcome to attend.
We will be video recording each session for the use on the facilitator's website, https://www.luzniak.com/. Please consider that participation in this program is consent to be videotaped.
Ongoing Meetings: Oct 22, Dec 5, Jan 28, Mar 10
Click here to review our cancellation policy.