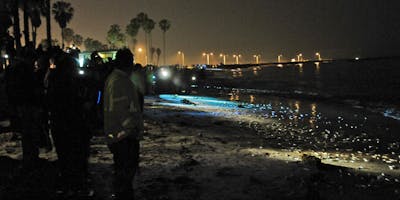 Watch grunion come up on the beach to spawn! Learn about the interesting mating rituals of this curious silver fish. The Aquarium opens at 8 pm and an auditorium program begins at 9 pm, followed by guided observation at the beach. You must arrive before 9 pm to see the movie.
MEMBERS ATTEND FREE - SIGN UP TODAY!
For the complete grunion season event schedule click here.
FAQs
Can I recieve a refund?There are no refunds for cancellations or "no shows." If you are unable to make it to the grunion run, the ticket purchase will be considered a donation to the Aquarium.
Will grunion definitely show up on the beach?CMA cannot guarantee there will be grunion on the beach. When it comes to wildlife observation, there is no such thing as a "sure thing." But since it's grunion season this is the best chance you have of seeing grunion. We will not issue refunds if grunion don't show up or are few in numbers. Also, we will not reschedule grunion runs if they do not show up.
What should I wear?CMA recommends wearing warm clothing and bringing a flashlight. It can get pretty cold and many times we are out on the beach until close to midnight.
Can I catch grunion?April and May are closed season. March, June and July are open season, when grunion may be taken by hand only. You must have a valid 2019 California fishing license if you are 16 years or older.
How much does parking cost?Parking is $1 an hour. There are parking kiosks located in the CMA parking lot, enter your parking space number and it will prompt you to pay.
Will the CMA Gift Shop be open?Yes, the CMA Gift Shop will be open late for guests.
Is there a place to eat?Snacks are available for purchase in the CMA Gift Shop. If available, food trucks will also be onsite.
Is there an ATM at the Aquarium?There is an ATM in the CMA Gift Shop.