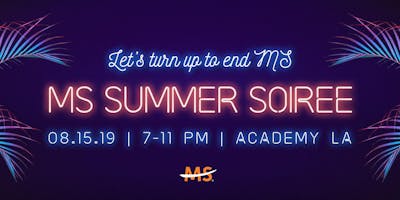 Let's turn up to help create a world free of multiple sclerosis!
 
Join us for our second annual MS Summer Soiree a cocktail and silent auction event supporting the Southern California & Nevada chapter of the National Multiple Sclerosis Society. Last year we raised over $53,497 and sold over 250 tickets. We can't wait to beat that this year.
We'll have another fun night of food, drinks, entertainment, music, dancing and a celebratory environment to celebrate and strengthen our younger MS community while raising lots of money. There will also be a silent auction featuring a ton of in-demand prizes and experiences as well as a raffle. All event proceeds benefit the National MS Society to support research, advocacy, programs, and services that improve the lives of the 20,000 people affected by MS in Southern California and 2.3 million people worldwide.
Dress Code: Cocktail Casual
 
WHAT IS MS?
 
MS is an unpredictable, often disabling disease where the immune system attacks the healthy cells of the central nervous system, disrupting communication between the brain and the rest of the body. It affects everyone differently and has a wide range of symptoms that that can include everything from numbness and tingling to blindness and paralysis. Most people with MS are diagnosed between the ages of 20 and 50, and it's 2-3 times more common in women than men.
 
The progress, severity and specific symptoms of MS in any one person can not yet be predicted, but advances in research and treatment are leading to a better understanding of the disease and moving us closer to a world free of MS.
 
Learn more here:
https://www.nationalmssociety.org/
 
TICKETS
 
(EARLY BIRD) GENERAL ADMISSION - $75
What it gets you:
Admission
Food
Open Bar
 
GOLD TICKET - $150
What it gets you:
Admission
Food
Open Bar
Gift Bag
Access to Exclusive Raffle Prizes + 5 Raffle Tickets
 
PLATINUM TiCKET - $250
What it gets you:
Admission
Food
Open Bar
Gift Bag
Access to Exclusive Raffle Prizes + 10 Raffle Tickets
Name on Platinum Wall and special recognition at the event
 

SILENT AUCTION PRIZES
We'll announce some of our best items as they are donated.
Last year our auction raised over $15k with all of the process benefiting the NMSS.
Last year's most popular auction items included:
Saturday Night Live Tickets
Poppin' Bottles in LA (hotel stay at The Peninsula Hotel & a bottle of Dom Perignon)
Dancing with the Stars Tickets
Private Dinner for 6 with MasterChef Derrick Fox
Hamilton Tickets
"After the Final Rose" Bachelor Tickets
Will & Grace autographed script and taping of show
FOOD VENDORS
Coming soon.
 
ENTERTAINMENT
Featuring DJ Lisa Pittman & Emcee Mikalah Gordon
 
THANK YOU TO OUR OFFICIAL SPONSORS
Coming soon