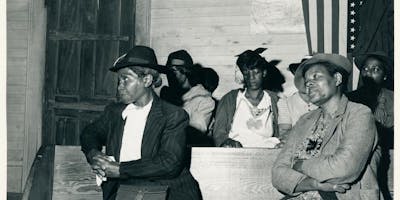 In anticipation of its Ruby Anniversary, the Association of Black Women Historians (ABWH) is pleased to announce its national symposium Our Foremothers' Keepers: The Art and Practice of Black Women's History. The symposium will be held Friday and Saturday, December 7-8, 2018, on the campus of Loyola Marymount University in Los Angeles, California.
In the forty years since a small group of women first met to form a professional network of Black women historians, the field of Black women's history has exploded. "Our Foremothers' Keepers" will explore the achievements and challenges that drive the field of Black women's history. It will also reflect on the future direction of research on Black Women's Studies within the United States and African Diaspora.
Our goals are multifaceted: to assess the field, to highlight cutting-edge research, to promote dialog and generative feedback, and to explore ways to navigate successfully the academic terrain. Friday features one day of scholarly presentations (a keynote plenary and concurrent panels and roundtables). Saturday will feature a special Graduate Student Panel and a day of workshops focused on professional development, life/work balance, and self care. Graduate students, early-career professors (within three years of the Ph.D.), junior, senior, and emerita scholars as well as educators, independent scholars, public historians, librarians, and archivists are invited to attend.
Registration must be completed by clicking the green "Register" tab on the upper right side of this page.  No cash or check payments will be accepted. 
Read more here.

Travel and Hotel Information
Loyola Marymount University (LMU) is located in Los Angeles, California, and has been named one of the top ten most beautiful campuses in America. It is located just four miles from Los Angeles International Airport (LAX).
The Association of Black Women Historians has negotiated group rates at the H Hotel and Homewood Suites-LAX. Both hotels are newly renovated with modern amenities and free 24-hour shuttle service to/from LAX. The hotels are adjoined and share a common lobby. Bus service to and from the symposium at LMU will be provided from the hotels..
H Hotel Los Angeles, Curio Collection by Hilton6151 W Century Blvd.Los Angeles, CA 90045
$159 Deluxe King Room$169 Deluxe Two Queens
You must use the following link to get the special negotiated rates. The cut-off date is October 15, 2018 or until the block is sold out:
Click here to reserve your room at the H Hotel Los Angeles
Homewood Suites LAX6151 W. Century Blvd.Los Angeles, CA 90045
$159 Studio Suite King$169 Studio Suite- 2 Queens
You must use the following link to get the special negotiated rates. The cut-off date is October 15, 2018 or until the block is sold out:
Click here to reserve your room at Homewood Suites LAX