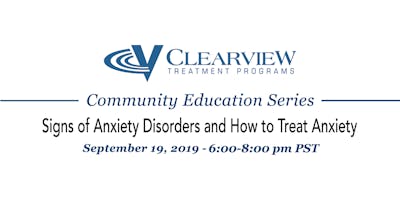 Clearview Treatment Programs' Community Education events are for family members and those seeking help. The goal of the series is to help people better understand mental health disorders and the evidence-based therapies used in treatment.
This event will help you identify and recognize the signs of anxiety disorders in yourself or a loved one. Understanding the symptoms of anxiety is the first step in getting help for yourself, a family member, or friend. Case examples will be provided, and you will have an opportunity to ask questions.
Free to attend. Registration required. This is an in-person event in Venice, CA or online via live stream. If you register for the online live stream, a link to view the presentation will be emailed to you 24 hours prior to the event start time.