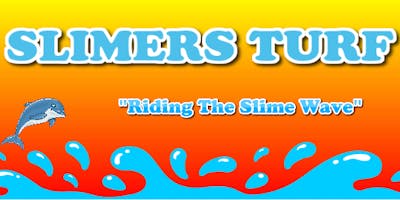 Slimers Turf 2:
A slime convention hosted by Dribble Slimes and Slime Mama 5! You will have the opportunity to meet, take pictures with and purchase slime and merchandise from some of your favorite VIP slimers and rising slimers, trade slime with other slime accounts and friends, enter your slime to be judged in a contest (winners will receive a trophy and a picture with the VIP judges posted on the Slimers Turf Instagram page), custom make slime at our slime bar, participate in a scavenger hunt with a prizes for the winners, Q & A with VIP slimers, learn how to make your own fabulous slime in one of our workshops, and more! EACH OF THESE EVENTS HAS BEEN ORGANIZED TO THE SMALLEST DETAIL AND WILL HAPPEN ON SCHEDULE! We will post the schedule on our Instagram page @slimersturf closer to the event. The scavanger hunt will be posted the minute it begins on our Instagram page as well. The event is at the fabulous L.A. convention center which has air conditioning and food available for sale! On top of security and a ton of staff wearing staff t-shirts to help you at every station and with any questions, we will also have a police officer and an EMT working at the convention! We weren't kidding when we said bigger and better than ever!
When you get to the event we will be scanning tickets off your phone, so when you get to the door have your tickets ready to scan or a printed copy of your tickets.
Food and beverages will be provided to purchase, you may not bring your own food to the event.
Guests 14 and under must be accompanied by an adult to enter the convention. Adults accompanying you will need a general ticket to enter.
During the convention, VIP slimers will have time for workshops in thick slime making, cloud slime making and butter slime making. The schedule for the times will be made available on @slimersturf on Instagram soon! Participants in workshops will receive a Slime Box that includes all ingredients needed to follow along with the VIP teaching the workshop.
Be sure to stop by Slimer Trading Alley to make new friends and to trade slime!
Come "Ride the slime wave" at Slimers Turf 2 in L.A!
* Slime bar, slime basket raffle and saran wrap game are not included with admittance ticket
*Slime making workshop taught by some of our VIP's  tickets available: Thick Slime Making Workshop, Cloud Slime Making Workshop and Butter Slime Making Workshop. The price of the ticket includes a Slime Box with all ingredients needed in order to make the specified slime the way our VIP's make their slime.
VIPS: 
Dribbleslimes
Itsslimetyme
Slimeypallets
Slimeyoda
Slimeyflake
Wuhooslime
Fireflyslime
Slimeglitterz
Slimeyland
Pugsloveslime
Slimeshadyshop
Softrockslimes
Kyakyasmr_slime
Slime.noodle
Slimepeony
Bambislimery
Pikaslimes_
And more to come...